Posted by Kester on Saturday, October 4, 2008
For the last week or so I had begun to ignore my banjo. It just wasn't like it used to be. At first the sounds I got out of it were incredible but then something went wrong. My banjo had let herself go a bit. Perhaps it was over between us? For a while I thought it must be me so I sought out some advice and got it. Our little relationship was being spoilt by my selfishness. I needed to think more about how I was looking after my banjo...
At first I thought about the strings, they had been there since January. I changed them and our little relationship held on for a little longer. Then I thought about the bridge. I carefully thought out which questions to ask and got the answers I needed from others. As I was to find out, a new bridge can bring huge results. It is better to make a few tweeks and love what you have rather than to spend a fortune only to end in the same situation. As I changed the bridge I thought about the drum head. I remembered to tighten it in screw order. As I tightened one screw, tighten the opposit one. Think of a clock face. Tighten at one then seven, two then eight and three then nine. Can you see the principle? Anyway. I put the resonator on and tuned up.
Wow! The sound was bright, clean and clear. It has sustain and I might even try that awful Basic breakdown, again! For £3.50 our little relationship was saved! All down to an inexpensive bridge! I will remember in future to be more attentive to my banjo. Remember, if you look after your banjo she will play like a dream. I guess you could say you should look after your banjo like a woman. Show it...her (?) some affection, buy it...her (?) nice new things and once in a while admit that you were wrong! Women like like it when you know your wrong about things and so does my banjo.
---
13 comments on "Kestergram number 6, love your banjo like a lady! Treat her right!"

banjotef Says:
Saturday, October 4, 2008 @2:15:24 PM
Nothing works better than regular maintenance: banjos OR your relationship with your woman!

Jane C Says:
Saturday, October 4, 2008 @2:32:25 PM
At last! A man who can admit he's fallible.
Phew! I was beginning to despair. : )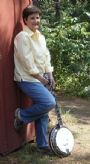 Banjosnob Says:
Saturday, October 4, 2008 @5:31:34 PM
You have your priorities right!

peghead59 Says:
Sunday, October 5, 2008 @1:47:44 AM
Yeh! I treat my banjo like a women. Its been standing by the sink for days now but still hasn't done the washing up!!!!
Oops! Keeping my head low now. I can see some flack coming.
banjo_nut Says:
Sunday, October 5, 2008 @10:14:13 AM
just a little TLC can bring some big results. love her tenderly.
blamethebanjo Says:
Sunday, October 5, 2008 @4:27:49 PM
Good job! It is easy to loose that excitement at times but it sounds like you found the answer!!

AnsacsteveOLD Says:
Monday, October 6, 2008 @4:20:10 AM
I have found that a slap on the "resonator" dosent work but a nice new strap will....... life.eh? strange ol' thing aint it? I have had nearly as many banjos as wives.... am I doing somthing wrong?........ All Answers will be ignored!

peghead59 Says:
Monday, October 6, 2008 @9:39:57 AM
Nice new avatar Kester. How long were you with MI5?

campbelldb Says:
Thursday, October 9, 2008 @6:12:31 AM
Hi Kester
Treating your banjo like a lady is wise advice but never, ever co-sign her credit card application!
Dan

Old git Says:
Thursday, October 9, 2008 @5:53:12 PM
Ok Kester, I took your advice,I did the same as you and change the main bits, yep its loud, but just made me cockups sound louder. Thanks pal!!! the neighbours have put their house up for sale. Me sugar supply is now knackerd and the dog as left home. anymore good ideas?
hillbilly 101 Says:
Monday, October 13, 2008 @4:03:56 PM
love the blog brother!!! u r right treat her like a very special lady! then u con't go wrong!!!!!!!!

hammeron Says:
Wednesday, November 12, 2008 @8:26:13 AM
Hi Bud, just read your Blog. You're on the right path. I recently had gone several months without playing at all. A big reason for this, was because I have my instruments upstairs in a kind of music alcove and that's where I would practice. But lately, I had not been going upstairs and so it was a case of out of sight, out of mind. Then, the other day, I was shocked when my wife requested that I pick a tune or two while she was on the treadmill which is upstairs. So, I did and boy was I rusty. And so when I was done playing, I decided to keep my Gibson nearer at hand so I must see it everyday. It works. I've been doing some practicing each day in my downstairs office. The point to all this is, is that my 'jo is no longer neglected because it greets me everyday when I walk in. It's of course not good to neglect anything you care about, living or otherwise. Anyway, glad to read that you have become familiarized with your 'jo once again. I suspect that this is something that is very common among many players.

randyblair Says:
Monday, November 24, 2008 @7:05:01 PM
This site is so wonderful as you can find the right information to make a positive difference with banjos and women too!
You must sign into your myHangout account before you can post comments.