A few weeks ago, I got an e-mail from a very angry young man.
I am the Unwed Father, non-custodial parent of him.
Per his mother's decision, I didn't see him for the first six years of his life.
Per the consequences of a decision she made in 1993, I've scarce seen him since.
(Considering that she gave him 50% of his heredity, and 95% of his environment, I am not REAL surprised that he's mentally ill.)
Anyway, in amongst all the angry, was a note that he wanted me to TELEPHONE him, Sept 23, so he could tell me off, directly into my ear, that he never wants to hear from me again.
Last Thursday, dinner included a Fortune Cookie. (Yeah, I know they weren't invented in China, but let's not let mere FACTS get in the way of a good story!) And the fortune was
"You will be rewarded for being a good listener in the next week."
So I told him, by e-mail, that I'd make the phone call, and that, per the Instructions in my Fortune Coolie, I'd try to be a good listener.
Made the call, and we had a very good talk. No ranting, no raving. Turns out that, between the prescriptions he was given (by doctors who hadn't yet discovered he's a high-functioning autistic) and the over-the-counter stuff he had been abusing, his memory had some holes in it. He didn't remember much or ANY of the good things my wife (his stepmother) had done for him, and of course, was unaware of nice things she said about him in his absence. And, absolutely unaware of the letters his own mother had sent me, wherein she AGREED with my wife, about our concerns for his well-being.
So now he knows, and she's no longer appearing in the Theater Of His Mind as the Evilest Woman On Earth.
And, tall hat and curly moustache notwithstanding, I am no longer appearing as The Villian!
I suppose the best I can hope for, is that it will BE a while, before his symptoms again command him to raise the curtain and resume the drama. Fifteen years, can you believe it?
Anyway, I did MY part. I ate the cookie, I was a good listener, and it feels like a reward.
---
11 comments on "GOOD NEWS from CHINA!"

FiddlerFaddler Says:
Tuesday, September 23, 2008 @2:07:13 PM
Hm, are you or your offspring in China? Anyway, that really was a good story. Anger sure is a destructive emotion if it persists more than a few minutes. Good job diffusing it - kudos.
PaulKirby Says:
Tuesday, September 23, 2008 @2:53:33 PM
Wow. That's so great that you put yourself to the task of listening, and equally great that it even felt like a reward. I find that it takes me awhile to pull my head out of my you-know-what so that I can see that my non-engagement in a volatile issue really paid off. Great story.

the-fish Says:
Tuesday, September 23, 2008 @4:40:29 PM
Thats a nice story Mike, thanks for sharing... Maybe I should listen to the fortune cookie once in a while?

fisher Says:
Tuesday, September 23, 2008 @5:07:51 PM
sometimes its hard bein a paw. your a good listener.and a good man mike.

frailin Says:
Wednesday, September 24, 2008 @6:26:37 AM
Jeez, Mike. Another journey. Good luck with this one. Kindness always pays.

Craig

twayneking Says:
Wednesday, September 24, 2008 @10:44:33 AM
Ah, offspring....

God's little way of showing us what it feels like to be Him!

When he tossed Adam & Eve out and told them to be "Fruitful and Multiply!" he was angry with them at the time!

We forget that.

But God in His mercy also gives us grandchildren (eventually) so we can experience that satisfying moment when our grandkids do to our kids what our kids did to us. Sometimes God & I go over to the kids house, just to sit on the porch and watch 'em try to handle those little terrorists (their own young-un's - my grandkids, God bless 'em) and He and I have one of those good cathartic laughing jags that makes your belly hurt.

justwilliam50 Says:
Wednesday, September 24, 2008 @11:22:05 AM
Mike you should be opening a clinic soon, so we can all phone ya, with are problems and worries L O L.
your a gem.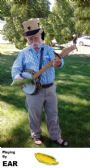 mike gregory Says:
Wednesday, September 24, 2008 @1:19:46 PM
OK, Justwilliam, but it will be a 1-900 number!
Seriously, all y'all: Thanks for the encouraging words.

BvilleDon Says:
Wednesday, September 24, 2008 @3:07:10 PM
As one who questions questionable religious statements in the forums, I was surprised seeing you follow tha cult of the cookie! Seriously, congrats on a relationship with your child. Perhaps, in his own way, he was hoping the experience would make you a little more proactive. I'm sure you tried that for years and got tired of flogging a dead horse. But now things have changed and i hope you can have a sincere and loving relationship with him! Agreeing to listen reminds me of your garage problem blog. With people, too, it seems the best way is to measure twice and cut once. Listening is a good way to have time to measure twice!

Mike Greylak Says:
Thursday, September 25, 2008 @4:27:21 AM
that's the way the cookie crumbles-- glad it's working out for the both of you.

Oalbrets Says:
Friday, October 3, 2008 @8:35:11 AM
OK Mike now buy him a banjo for christmas and that will make everything right.
You must sign into your myHangout account before you can post comments.