Posted by Kester on Monday, September 22, 2008
I have a question for anybody who can help me?
I have a banjo made by Barnes and Mullins of London. It is a nice banjo, but I am wondering if it is good enough for me? I am wondering if it could actually be hindering my playing, or am I just bad on the banjo? Does anybody know anything about this make of banjo?
Here, however, is my big and fizzing question, what about Deering banjos? What are they like for playing and quality? I am seriously going for an upgrade and wondering if this move is right for me.
I have heard that a lot of people look forward to buying their, 'first Deering' and show them off in photographs, but I just don't know about these things! I know it sounds dumb, but I have seen Deering banjos and they seem to come in a light yellow and I like the colour at least. If you have a Deering can you give me some insight into them?
Kester
---
7 comments on "Kestergram number 4, musings of a complete ignoramous... Deering Banjos."

Badger Says:
Monday, September 22, 2008 @12:00:47 PM
Hello Kester, The light yellow Deerings are probably the Goodtime model. The yellow color is maple wood known for its excellent tonal properties. The Goodtime is the inexpensive end of Deering's line. They have things like a steel (instead of bell brass) tone ring. And I think I have read that the neck does not have a truss rod. I haven't heard of any problems arising from not having a truss rod though. I played a Deering Sierra at a festival here this last year (as well as many other banjos; Omes, Nechvilles, and a Stelling) and I thought that it sounded better than any banjo there. I am saving to buy a Deering Sierra. Is your banjo holding you back? The only way to be sure is to try another for a while and compare your progress. Years ago I had an Aida which was badly set up and that certainly contributed to my lack of progress at the time. Whatever banjo you choose, be sure to get a little hands on time before you commit to buy it. What suits one person may simply not work for another. Best wishes whatever banjo you choose.

hammeron Says:
Monday, September 22, 2008 @12:10:42 PM
Kester, I do not know much about Deering banjos. What I do know is this. I got my first Banjo back in 1971. It's an inexpensive 5 string made by Astro. Very inexpensive. I still have it but don't play it. It wasn't until 2002 that I got my Gibson RB250 Mastertone, brand new. The difference in action, sound, tone, all of it was like night and day compared to my old Banjo. My Gibson motivated me to get into it hard core and really start learning. I'm certain the same would be true with any top professional grade instrument. There's so much more to this story but I won't elaborate here. I suggest you really shop around and try different makes and models. Better music shops should allow you to try their various instruments. They did for me. Bottom line: Try to get the very best that you can afford. It really does make a huge difference in motivation and overall happiness. Good luck!

Jane C Says:
Monday, September 22, 2008 @12:18:18 PM
Thanks for asking the question that some of us have been wondering about too Kester. I'd like a better instrument aswell, but don't have the funds so I'm working on being as good as I can on what I have. I did take it to the wonderful Ken Thompson, the manager of the Hobgoblin franchise at Johnny Roadhouse in Manchester, he tweaked it and made it so much easier to play by lowering the action, (don't ask me how) and he didn't charge a bean. Mind you it's gone all "wangy" again, must be the central heating. Next time you go to Bangor, call in at Hillbillies in Colwyn Bay and have a play, they won't mind. Good luck Jane

akcarter Says:
Monday, September 22, 2008 @12:59:53 PM
Hi Kester I have been playing for little over a year.Iwas given a £150.00 chinease banjo which was quite nice but decided to upgrade.I thought i might spend four or five hundred I ended up with deering maple blossem but hey.It will last a lifetime.The difference is unbelievable.go for it you only live once

gkuchan Says:
Monday, September 22, 2008 @1:13:48 PM
Before you head down the slippery slope of Banjo Acquisition Syndrome you must first clear you head of as many preconceived notions as you possibly can...and know that there is a new banjo out there somewhere in your future, a banjo that someone has made just for you, although thy may not have know it at the time, they did. You quest, should you choose to accept it, it to lay your hands on every Banjo you see. No matter how cheap, or expensive, grab it hold it and play it. It's out there somewhere waiting for you, be it a Derring, a Lee, a Gibson, a Reiter, a Prust...It's out there, be patient and it will find you.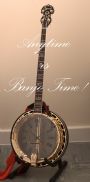 ragitty Says:
Monday, September 22, 2008 @1:23:25 PM
Kester I have owned two Deering Banjo's, the "Golden Era" and the "Sierra", both were really nice to play, the only drawback that annoyed me with them was that the nickel plating on the armrest rubbed away within weeks of ownership.

I now own a Goldtone, it is just as playable as the Deering but the plating is excellent, no problems at all and a quarter of the price, the answer to your question is simple, go to eagle music ask for steve and he will let you play several instruments, then and only then make a decision of the brand you wish to purchase.

BvilleDon Says:
Wednesday, September 24, 2008 @8:47:16 PM
I would say find a competent professional and take some lessons. In a very short time, they will tell you if you have a banjo problem or a technique problem. The GREAT NEWS is either can be addressed successfully. If it does turn out that your banjo is holding you back, try several and see what works for you. Never buy a banjo that will have you wondering in a day or two if you bought the right banjo. I was the same way as a previous responder. I had played an old Kay for decades and decided to get a banjo that would always be better than me. I love it and will never sell it. I think almost all makers build good and bad banjos. Find the one where everything fits together just right for you and let the organic banjo playing begin--unless a qualified pro tells you your banjo is fine or just needs set up or something--and then the organic playing can begin on an even less costly scale!
You must sign into your myHangout account before you can post comments.