This little 'jo is addictive! Spent an hour or so reading through some Irish and Scots fiddle session books, and although my sight reading was poor to begin with, things are falling into place. Some observations:
Alternating pick directions or sweep-style? I've always been an alternating kind of guy on the guitar, only using a sweep very rarely. But there is an important articulation question here. Downbeats should have down strokes (stronger) and upbeats, upstrokes (weaker). This inequality of accent gives a forward momentum to the music, which might otherwise sound like a load of quavers with little directed energy. On the other hand, most fiddlers play more than one note to the bow, at least in Scotland. This has changed over time. It was said of Neil Gow (arguably Scotland's most revered fiddler from the past) that he played strictly up and down bows, one note per stroke. Later, Scottish fiddle music came under the influence of the classical style, with people like Scott Skinner playing Paganini in concerts and calling himself a 'violinist' rather than a mere 'fiddler'.
This alternation of down and up strokes, strong and weak beats, is also very much part of Renaissance lute playing. Those guys looked at the hand and saw an inequality in finger strength. They matched this with the inequality in the music (beats as well as harmony) and came up with the rule of playing strong beats with the thumb or middle finger, and weak beats with the index. Once you adopt this technique rigorously, the music leaps off the page in a very different way. Most classical guitarists, for instance, were taught to iron-out the inequality inherent in their fingers, so that any finger could play any note at any time. Fine for modern music, maybe, but disasterous for Renaissance music. Even someone as late as Fernando Sor (late 18th-early 19th century) favours something like the old lute technique, as being, he says, 'more conduce to the music'.
So I tried to keep a strict alternation - not always the easiest thing to do, and as I haven't spent much time on it I found myself every now and then just using what was easiest. The main problem is in jigs. In 6/8 timing we have 6 quavers split into two groups of three. The questions is: do we go Down Up Down, Down Up Down or DUD,UDU? the latter emphasises the first beat of the bar, the former implies two main beats per bar. Sometimes the harmony stays the same throughout the bar, so maybe the single accent is better. Sometimes the chord changes half way though the bar, in which case the first way, with an accent for each half of the bar, might be better.
I also found it interesting for the left hand - an insight into how fiddlers play. As most of this repertoire was born on the fiddle, so to speak, it is fascinating to see what falls under the hands, and what doesn't. Most of what I read seems to fall easily under the fingers. As a guitarist, I would have had a more difficult time.
I'll try to make a video later today, if I find time to practice a bit more. I've noticed that many Irish-style banjo players are fond of quick triplets. There will be none of these in my playing today - I just find them too hard!
---
4 comments on "8. Irish Tenor Banjo tryout"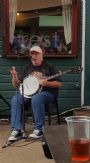 joemac Says:
Saturday, September 20, 2008 @4:16:40 AM
using the pick isnt that simple on the tenor banjo, sometimes you will need to downstroke after your triplet and sometime up stroke, take the senario of two triplets together for example, also the feel of the jig may differ from tune to tune, slip jigs being even more in need of definate beat and structure. i find that playing something like bag of spuds for example (Gerry oConnor, You tube) i close my eyes and feel the tune wash over me, the pick hand just goes with the flow as it were. dont look to deeply into the pick. try a few simple reels in 4/4 or h/pipes in 2/4, they will help your pick hand develop quick . on my masons apron for example i use no triplets, just play it straight, it flows better to me that way, Davey Arthur on the other hand fills his version with triplets to the point of destruction. others may disagree, but thats me Rob...hope this helps.

Rob MacKillop Says:
Saturday, September 20, 2008 @4:22:11 AM
Thanks Joe. I've now put a video up. Feel free to give advice. I'm a great fan of your playing!

Kester Says:
Saturday, September 20, 2008 @7:54:01 AM
Hmmm, I will try changing the strengh of my banjo picking and see what that does. I know how addictive the tenor banjo can be. I have a list of about thirty tunes to learn. Once I have learnt them I then look forward to improving on each and every one of them. I am going to watch your video now and I am looking forward to this...

Rob MacKillop Says:
Saturday, September 20, 2008 @2:35:14 PM
I spent an hour trying out triplets, but very often played quadruplets instead, doubtless trying get the stroke for the following note in the right direction. Interesting comments on Gerry O'Connor's website about right-hand technique, sticking the right elbow out a little. Enjoying it.
You must sign into your myHangout account before you can post comments.