I have been visiting with a lot of banjos lately, flirting with some and marrying others. I think -- and Lord I hope I'm wrong -- I've been bitten by the banjo collecting bug.
Certainly my wife has her suspicions.
Last month, I was in Pikeville, Tenn., (see last blog), playing music with friends and bought an A-scale banjo made by Tommy George of Sommerville, Tenn. I do a lot of flying on airplanes for business, and this little jewell should fit in the overhead bin.
Also, this weekend, I am buying a banjo from a Mike Dawson, of Grabill, Ind., which is about 40 minutes from my home here in northeast Indiana. Mike has made an open-back banjo with a 12-inch pot that rivals any of the big names you would know in openback banjos.
Last weekend, I bought a Ramsey minstrel banjo -- beautiful wood with that old sound that you only get from those type of banjos. This will be my second fretless banjo from Mr. Ramsey, both of which were made while he was living in Appomattox, Va.
Ok, those are the ones where the marriage has been consumated, but I have flirted with a few, too.
I bought the Ramsey minstrel from a friend in Waterville, Ohio, who took me to the home of his friend who had been bitten badly by the banjo collecting bug. For security reasons, I shant tell you too much other than the fact that this fellow had on the order of 400 vintage guitars, banjos and mandolins in a single room. Leave it to say, I was awestruck.
It was there that I confirmed, by playing one, that one day I would like to own a Cole Eclipse. It's great banjo and is on my short list of vintage banjos that I'm targeting. Also on my list are Dobson Silver Bell and a silver-engraved banjo from Chicago maker J.B. Schall.
I just need to learn how to beat the bushes for bargain vintage banjos, which is an art unto itself.
I had another pleasant visit with vintage banjos today. I was in Grand Rapids, Mich., for two days for business, and took a slight detour on my way home to go to Elderly Instruments in Lansing, one of the best music stores in the nation.
I probably played six or seven banjos. My biggest surprise was an S.S. Stewart Orchestra No. 2 ($1,750), which I really liked.
I have never really been taken with Stewart banjos before, but this one was a beauty, played great and had a very nice sound. She winked at me and I winked at her, but alas I left the store alone.
Oh well, so many banjos, so little time.
---
7 comments on "Marrying and flirting with banjos old and new"

muntjac Says:
Thursday, September 18, 2008 @11:56:06 PM
It appears that you are suffering from the rare but contageous Banjo-collectionitus syndrome. I have not heard of a sensible cure though.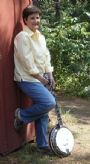 Banjosnob Says:
Friday, September 19, 2008 @7:21:16 AM
Thanks! I was starting to feel guilty about having too many banjos. I'm glad I'm not as sick yet as you, although I am watching 2 items on Ebay as I speak.
Anyone out there know of a good banjo therapist?

twayneking Says:
Friday, September 19, 2008 @7:36:55 AM
Yes I do. There is a 12 step program.

From the archives: http://www.banjohangout.org/myhangout/blog.asp?id=20462&blogid=2842

strokestyle Says:
Friday, September 19, 2008 @7:58:05 AM
You are fine, no need for any sort of control or therapy. All things in your universe are still inline. This is perfectly normal.If you feel insecure about all these marriages you could move to Utah and live with the banjomormanians! Or you could do what I do just live in sin!

FiddlerFaddler Says:
Friday, September 19, 2008 @8:06:41 AM
As long as the Pride of Life doesn't factor in, then I think that there is an exception clause related to banjos somewhere between Thou Shalt Not Commit Adultery and Thou Shalt Not Covet Thy Neighbour's Goods. I keep pouring over the text and I'm having trouble finding it, but I'm still looking. I'll keep you posted on my progress.
FretlessinTexas Says:
Friday, September 19, 2008 @9:14:56 AM
And therein lies the problem, you see, I did covet that Cole Eclipse and that SS Stewart. But admitting it would be a form of confession, right? Forgive me Father for I have sinned.

pluckyfingers Says:
Tuesday, September 23, 2008 @9:46:07 PM
I've worked it out that I can only have as many banjos that will fit in in the banjo cupboard about four so one more to go and I'm done I think!!!
What's that dear, oh nothing other than the sweet sound of an SS Stewart, no sorry love it's not a car............. some peaople just don't understand SIGH!
You must sign into your myHangout account before you can post comments.