Having had some success with my daughter's banjourine, I've now put in place a plan for my banjo future. I've ordered an Enoch Cherry Fretless Tradesman from Zepp - might take ten days or so to arrive - and have also placed a deposit with Bob Fleshman for a Boucher copy, but that won't be made before July of next year.
It's amazing what info you can pick up on banjo websites. Apparently almost all those heavy death poems by Emily Dickinson can be sung to the tune of 'Yellow Rose of Texas' !!! How incongruous! That would make an interesting CD!
My daughter's growing sense of rebellion has her rejecting clawhammer (what Dad wants to do) in favour of bluegrass, Scruggs style. Yesterday she spent 20 minutes playing rolls to Skip To My Lou. I fained shock and horror. That will make her practice more.
Can't wait to get my Tradesman...
---
3 comments on "3. A plan is taking shape"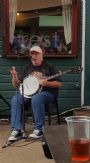 joemac Says:
Sunday, September 7, 2008 @1:00:02 AM
Hi Rob, good luck with it all mate and all power to your daughters elbow!!

Rob MacKillop Says:
Sunday, September 7, 2008 @1:46:17 AM
Thanks Joe. She'll be trading licks with me in no time.

muntjac Says:
Sunday, September 7, 2008 @9:05:04 AM
Hi Rob I can envisage a new version of Duelling Banjo's coming up. Good luck with it ..
You must sign into your myHangout account before you can post comments.