Hi there, and greetings from Scotland. This is my first entry for what will be a blog of my attempt to learn, understand and increase my appreciatioin of the banjo in at least three of its guises - clawhammer, bluegrass and Irish tenor.
First of all, I'm an experienced musician - been playing lutes and guitars (all types - historical plus modern) professionally for twenty years or so. My main thing was Scottish lute and guitar music, for which I've recorded 7 CDs. I have a couple of books published by Mel Bay on playing Scottish music on guitar. You can check out my web site, if so inclined: www.rmguitar.info
Why the banjo? Well, first of all I've always loved the sound, but I rarely got to hear players first-hand. I've just been too busy in other areas. But lately I've been bitten by the banjo bug and have started listening more, watching youtube and find books. My daughter surprised me by saying she wanted a banjo for her birthday. The full-size ones seemed too heavy, so we settled for a banjourine - a 5-string with smaller scale length. She loves it, and its presence in our house has caused me to pick it up when she's not around. Found myself getting pulled further in...
It quickly became apparent that there are many styles of banjo playing, and I feel at risk of getting lost in all the info coming my way. This blog might help get my thoughts in order, keep me focussed.
I also hppen to be a Musician In Residence at a university, with the task of getting the staff and students to play all sorts of music from medieval to big jazz band. We have a traditional music band and an acoustic music band. I have managed to order two banjos for these groups - they will be used by students, not by me, but I will have time with them to get to the point where I can offer basic tuition, if needed. I ordered an Irish tenor for our Scots/Irish traditonal group, and a bluegrass for the acoustic music band - both are Deering Goodtime instruments. Still awaiting their arrival - they were ordered yesterday...
HOWEVER, for my own playing, I find myself really getting pulled towards fretless playing. I watched and fell in love with the FretlessFury introductory videos to the Round Peak style, and I also loved the Minstrel instruments on Bob Flesher's page. Having spent the last twenty years playing and researching historical stuff, I naturally feel drawn to that side of things. I've been looking at these sites for a week now, and the hunger is growing inside me for buying a banjo. So, what kind and how much?
Do I really want to go the whole hog and get into minstral-style playing, or maybe go for an Enoch Tradesman (my financial outer edge), mixing minstrel with old-timey, folky styles? I was amazed that my local music store had the Joe Weidlich books: The Early Minstrel Banjo, Minstrel Banjo, and More Minstrel Banjo, and all very inexpensive. I bought the lot, but haven't had time to read them yet.
But what can I actually play on the banjourine I got for my daughter? Well, I've just been fooling with the bum-ditty. I can get it ok for having just started. Repetition, repetition, repetition - that's the name of the game. I'm finding getting a clear note on the inner strings difficult (I use my middle finger), and might consider a short false nail (my nails are useless - I play lutes and guitars with flesh).
Annyway, enough for this first entry. I'll try to be dilligent and get stuff down here when I get the time.
Rob
---
2 comments on "1. It starts here"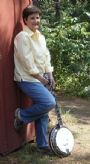 Banjosnob Says:
Friday, September 5, 2008 @8:02:51 AM
You may have enough credentials to be a member here. Ha!

Rob MacKillop Says:
Friday, September 5, 2008 @10:58:55 AM
I'm working on it, Lynne. I enjoy learning. I hope I never forget the joy of just playing an open-string chord.
You must sign into your myHangout account before you can post comments.