Posted by frailin on Friday, August 29, 2008
Just spent a rowdy day at the "great MN get-together" (our nationally renowned state fair). Once again the MN Bluegrass and Old-time Music Association (MBOTMA) sponsored a duet's competition. Debbie Sorensen-Boeh and I threw our collective hats in the ring for a couple rounds. I've posted videos of the two numbers that got us into the final round. They're old-timey favorites: Chased Old Satan (in "A") and one of my favorites songs that Deb sings, A Mother's Final Words.
Enjoy!
Here's Chased Old Satan
And here's A Mother's Final Words
Unfortunately I wasn't able to salvage much of the hasty recording made of our play-off number (Little Birdie). Must notta been too bad. We got 3rd place (woo-hoo!). Enough cash for some pronto pups (on a stick)...
and cheese curds.
---
13 comments on "'08 MN State Fair Duets Competition. Woo-hoo!"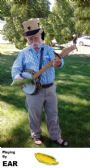 mike gregory Says:
Friday, August 29, 2008 @8:07:48 PM
How much cash do porno pubs require?
Anyway, nicely done tune.

frailin Says:
Friday, August 29, 2008 @8:18:29 PM
I try and stay away from porno pubs, Mike. :)

vortex Says:
Friday, August 29, 2008 @10:31:34 PM
Great job Craig.

PaulKirby Says:
Saturday, August 30, 2008 @1:41:50 AM
Hey! Excellent!

PaulKirby Says:
Saturday, August 30, 2008 @1:42:48 AM
Great hat, too!

mainejohn Says:
Saturday, August 30, 2008 @2:20:38 PM
Great stuff! Dang...I wish I could clawhammer like that!

Rob MacKillop Says:
Friday, September 5, 2008 @11:24:35 AM
Loved the videos, Craig. My kind of stuff. Excellent.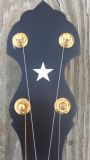 RWJonesy Says:
Sunday, October 5, 2008 @9:59:11 PM
Hey Craig !!! Love your clawhammer playing, absolutely fantastic. Just wanted to tell you over here in Pulaski New York we have some of the best fresh squeaky cheese curd there is to offer in all the land.... at Colosse Cheese Curd.

andy wa Says:
Monday, October 20, 2008 @8:15:49 PM
What the heck are cheese curds? And are they deep fried? Do you eat them with ketchup or mustard, or maybe more cheese?
My arteries are hardening just looking at them, so they must taste good.

bananaman1415 Says:
Friday, October 24, 2008 @10:12:55 PM
YOU'RE SUPPOSED TO EAT THOSE THINGS????

speedtheplow Says:
Saturday, October 25, 2008 @4:24:23 PM
I was going to say- those aren't just cheese curds, they're DEEP FRIED cheese curds. And thanks ,Craig, for posting my sister's performances on You Tube so I can keep up on what she's doing. Dave

djingodjango Says:
Friday, November 7, 2008 @12:15:16 PM
Good Lord-a'Mighty. Deep fried cheese curds. Death in a cardboard boat. What a way to go!!!

rkbarry Says:
Friday, November 21, 2008 @3:30:38 PM
You keep chewin' on that and you won't be a'frailin' for too much longer! Gad!
You must sign into your myHangout account before you can post comments.