Posted by SkaStan on Sunday, August 24, 2008
Finally mastered the final tune in Bill Evans fine book "Banjo For Dummies" (ok so its the easy version but it was tabbed in the wrong key anyway) so where to next? Well I've just received the Earl Scruggs book from Amazon. Although I will be going over alot of ground already covered by "Dummies" I am thinking that mastering at least a bit of Scruggs style is an essential for all pickers. I am not sure that Scruggs is the style that I really want to master - melodic, celtic and classical all interest me and I will be studying each one at some point so as to figure out exactly which direction to take. But that is for the future and right now I have my bags packed and am about to fly over to Bali in Indonesia for the small matter of gettin married! Will be taking the 'jo along for the ride, its the first trip with it but have bought a flight case especially for the journey, my fiance is fine about it but not sure what the wife will say when I am up all night trying to master Earls rolls instead of rolling in my sweet babys arms so to speak. Will post some pictures here at some point...
Just for the record last night I changed from Earl med strings to Earl lights, swapped the Charlie McCabe bridge to a Emerson II Sweet Power and tightened the head up a bit, small beginners tweaking but its a whole new sound to me..
---
1 comment on "A Dummy No More!"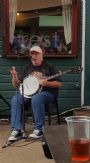 joemac Says:
Monday, August 25, 2008 @1:56:21 AM
Robert, a true banjoist, gets to take the 'Jo along.....yeehaaaa!!!
You must sign into your myHangout account before you can post comments.