Posted by ksamp07 on Sunday, August 24, 2008
Hey Y'all,
If you read my previous entry, you know my personal crusade to tap into my family's roots in Appalchia. Well, just a few weeks ago, my grandfather took me to my family's old homeplace in the foothills of Murray County, in northwestern Georgia. I posted pictures from the trip, which can be found at the bottom of my page. The house was built in the 1840's but my family had been on the same area of land for a few decades beforehand. We acquired approximately 360 acres in a land lottery in the early 1800's, and even owned some land in the are that is now part of Fort Mountain National Park. The house originally belonged to my 3rd-grade grandfather, David Enoch Humphries. He faught in the Civil War (or War of Northern Aggression, whichever is your personal view) with Company C, 11th Georgia. From then, my family has been living in the house, or holding family reunions at the house, which is currently vacant, but still kept in working order. My grandfather and I went up for the day, and my photos are posted below. For some background on a few pictures: you will see a picture of a wooden chair. That chair was made by David Enoch Humphries for his wife Rebecca for her birthday sometime in the 1800s, and has never been recained. There is a picture of a picture of a civil war soldier. That is a picture of David Enoch, and the picture has been above the mantle since he lived there. If you have any questions about the pictures, leave me a comment and I'll get back to you as soon as possible.
Thanks for reading, enjoy!
Kevin Sampler
---
3 comments on "Finding My Roots, Part 2"

bob gregory Says:
Sunday, August 24, 2008 @5:27:42 PM
thanks Mate the photos are great that was a hard time to live but they made do with what they had . would be a top area to have grown up , it's good to hear your still looking in to your family history.not all together up on the Civil War . from movies over here the north moved on the south and the north came out in front??? anyway thanks again Kevin
regards bob

ksamp07 Says:
Sunday, August 24, 2008 @6:29:35 PM
Thanks bob, I appreciate it. From what I hear it was a hard life to live, but a good one. As far as the Civil War goes, the story differs depending on the people you ask, just like about any war. I appreciate the comment.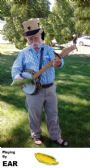 mike gregory Says:
Monday, August 25, 2008 @3:14:24 AM
Marvelous stuff.
As to what to call the bloody conflict, since so many people get angry about it and the Mods end up locking or deleting the threads refering to it, I prefer the mutually inoffensive ( and yet therefore somehow mutually DEEPLY offensive) "Misunderstanding Between The States". Both sides had instances of otherwise decent people behaving badly. "just like about any war", to quote a veteran's descendant.
You must sign into your myHangout account before you can post comments.