Ed Britt and I just got back late last night from Clifftop, after driving straight through. I took today off, in order to recuperate. I am afraid that my fingers are going to need more than one day to recover.
This was my first Clifftop, and I really enjoyed it. It was a real pleasure to finally meet Chip and Tish Arnold, who are just wonderful people. Chip is a quietly charismatic guy, full of good humor, and his playing is extremely elegant, subtle and creative. Before I came down, I had worked out a three finger version of Will Keys' tune Sycamore Shoals, as an homage, and Chip patiently took the time to walk me through a section of the low part I was having trouble hearing right. He is a real gentleman.
Another high point came when I had the opportunity to pick with Jim Costa, a great fiddle and banjo picker who is a genuine Uncle Dave scholar, and a great musician and entertainer. I will never play Sally Goodin, Gray Eagle and 8th of January as good as I did sitting under the tree with Dave, whose talent and enthusiasm are infectious and inspiring.
I really enjoyed picking a few with BHO member Glenn Carson at his campsite. Glenn, of course, is an extremely skilled luthier, and a great clawhammer picker. I also enjoyed trading lentil soup ideas with Glenn's wife, while he and Ed Britt discussed the true identity of the Vega 23995 engraver (or whatever the number is). She makes a really excellent lentil soup. She complimented me at how quickly I made myself at home!
Late one night, Ed and I had a three way banjo session with BHO member and bluegrass picker Scooter Muse, who had driven up for the day from Alabama in order to talk about Ome banjos with Ed. Scooter is the epitome of tasteful, graceful bluegrass picking, and he quickly eased himself into a third path around Ed and I, and it really made the whole thing sound just wonderful. I never did get down to the bluegrass compound reportedly located deep down in the remote area called "the Swamp," but I heard that there was a lot of nudity and drinking of hard liquor down there, so I am sure I didn't want to go there anyway.
I had the pleasure and good fortune to pick with a bunch of other great players, whose names I can't remember, but whose music I will not forget. I came home with a mental list of new tunes that I am determined to learn, including Rock My Babies to Sleep (Chip plays an astounding version), Joys of Quebec, Needlecase, Wednesday Night Waltz, and Durang's Hornpipe. Durang's I finally got the hang of, I think, picking with Peter from Australia (I didn't get his last name), sitting late one night under Dan Levenson's tarp.
I hope I can get back next year. Never saw so many fine old time musicians in one place in my life. Where exactly is the Swamp, anyway?
---

ElGringorio Says:
Thursday, August 7, 2008 @5:05:57 AM
Sounds like you had a blast. I have friends from all over the country go to Clifftop, but I have yet to make it. Always something comes up, and I tell myself "next year."
But I am glad you had a good time. Meeting new people and playing new tunes can lead to lifetime friendships. But it's clear from your blog that you already know that.
Almost from every event I attend, I come home with new tunes in my head. Sometimes I don't even know the name of the tunes, but I play them when I get home.
Thanks for the posting. And best of luck to you.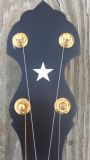 RWJonesy Says:
Friday, August 8, 2008 @6:11:15 PM
Sounds like this event is, once again, is the best one I've ever missed. One day I hope to attend. Thanks for your post.
You must sign into your myHangout account before you can post comments.