FRI AUG 2, 2008
Maybe I should have spent MORE time at the library, and LESS time going to yard sales.
Figure that the old knees won't TAKE a sixty-mile round trip, and gas is basically getting more and more expensive, so I bought a used electric wheelchair for about a hundred bucks. Took off the electric mototrs and the controls, and began trying to electrify my bicycle, to let the BATTERIES do the uphills. (REAL GOOD deep cycle batteries are SHOCKINGly expensive, so I bought a couple of plain old USED auto batts to experiment with.)
Got the whole thing together Fri Aug 1, and suspended the thing from the rafters, so I could watch the wheel GO, without being ON it. (Besides, it's almost impossible to see the rear wheel, gears, and motor while seated on the bike, facing front.)
Got the wheel spinning fairly well. Pushed a little piece of scrap lumber against it, to see if the motor would drive the wheel WITH a resistance on it.
It would not. The bike wheel slowed dramatically under the slightest load.
So, I stopped applying resistance, and just let it spin free, to see how fast it would go. It got to zipping around pretty well, and then the chain flipped or slipped off the cog that I had fastened onto the Electric motor. Imagine the fun it would have been, to have that happen 8 miles from home!
Maybe I'll have to put the WHEELCHAIR wheel on the front fork, move the motor to the front, and use the original belt drive.
Free advice would be greatly welcomed.
---

clio Says:
Saturday, August 2, 2008 @10:15:34 AM
U got the plan Man

justwilliam50 Says:
Saturday, August 2, 2008 @10:21:53 AM
My friend tried something like that and actually got the thing going, but the torque from the driven wheel shattered all his spokes!!!!

Michael Keith Says:
Saturday, August 2, 2008 @12:22:29 PM
Just pick up a scooter and you won't have to do any engineering. Just get on and ride.

vortex Says:
Saturday, August 2, 2008 @9:27:14 PM
Mike,You can do it. Don't quit now.

bob gregory Says:
Sunday, August 3, 2008 @12:10:28 AM
Mike , in australia we have push bikes with electric motors they run fairly good for up to 30km then you recharge.not to fast i don't think you would out run your dog.but you can still pedal. not to great on hills . so good luck and keep trying..

muntjac Says:
Sunday, August 3, 2008 @6:20:04 AM
Hey mike put a solar panel on your hat and get a free charge to the bettery or even direct to the motor!!!

twayneking Says:
Wednesday, August 6, 2008 @1:46:04 PM
A little gas trolling motor bolted to the frame on a hinged bracket. The motor spins a rubber wheel that drops down flat on top of your rear tire. The weight of the motor keeps the drive wheel in contact with your rear tire. Rig up a cable to lift the motor off the wheel when you want to freewheel. You don't have to hook to the sprocket or chain that way. The motor is light enough to not weigh down the bike, but heavy enough to hold down the drive wheel. If not, mount a little push lever you can lean back against to increase drive motor traction.

The motor will run on a thimbleful of gasoline.

My other idea is a small rocket motor. When you hit 300 miles an hour, you shut it down and coast the remaining 29 miles.

No charge for the brilliant theoretical advice.


Mike Greylak Says:
Monday, August 11, 2008 @4:48:23 AM
Can't see hauling around 120 pounds of batteries to save your knees on the uphill parts of your journey. I think they would arrest you for self inflicted battery. Why not electrify the bike y--ou could plug the motor into your banjo chords, You wouldn't need a radio either cause you could listen to yourself playing-- can't figure out how you'd steer tho'!!

GShannon Says:
Monday, August 11, 2008 @6:04:07 AM
i once mounted a Homelite chain saw engine on the back wheel of a bicycle. when the thing got going fast enough (about 2.8 second after ignition) that the reflector on the front spokes was throwing the front wheel off the ground in a cruelly carnivillian manner, some of the subtle weaknesses in the braking system became more apparent by a magnitude or two. i imagine it probably would have gotten 25 or 30 miles to the teaspoon, but the local constabulary (sp?) made several unkind and threatening overatures in it's general direction, so i never really got a good bead on the mileage aspect of it. nor did i really have the proper protective iron clothing ensemble to safely fly it through the forrest should i have missed a curve or hit a bug crossing the road.
electricity sounds like a much more thoughtful idea to me. just saying so you can scrub any plans you may have for that old chain saw. hope this saves you some effort and time. good luck, and keep us posted.......

LittleGoomba Says:
Monday, August 11, 2008 @9:46:51 AM
http://www.acclivity.ca/electric_bike.html

As a ninjaneer myself, I'd say abandon efforts to merge the wheelchair and bike. No matter how adept you are at building things, the risk you are taking should you have a mechanical failure is too great. Don't put yourself in a hospital.
Its' belt driven? If you are determined to make this happen, make a mount for the motor to the side, and have the motor shaft press against the back wheel's tire. This gives you the mechanical advantage, in that the motor will be spinning like 60, and the bike wheel, not so much. Only problem is that you'll be replacing lots of tires due to the extra friction. A nice touch would be a lever to remove the motor from the tire so you can coast downhill without working to make the motor spin.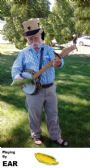 mike gregory Says:
Monday, August 11, 2008 @10:05:13 AM
The elec motor is geared WAY down, so having the shaft driving the wheel by direct contact would be a very slow process.
I did try a weed eater motor against the front wheel, but all it did was grind rubber off the tire.
Icould, of course, try rent a place within WALKING distance of wherever I want to go, but that might require WAY too much planning.
You must sign into your myHangout account before you can post comments.