Hi people, I have been a very naughty boy! I have neglected my studies and left my beloved banjo in the corner for too long. I think was feeling sorry for myself having no teacher and reaching a stage where it just wasnt getting any easier. Tryin to keep the noise down is a bit of a bind too. Neighbours n` aw that.
I finally realised, wait a minute, you aint gonna get a teacher , so bloody well get on with it yourself. I spent more or less all my teenage years learning guitar and I think I simply forgot how to apply myself cos it aint gonna just happen. Thing is I started pickin again and wow, I noticed a difference right away. Everything seems to flow better. I wouldnt say I am good by any measure but the rolls actually sound fluent at last. I dont know if the rest made any difference but I have a new hunger for learning. Maybe I will hit another wall but I will climb that one when I come to it.
I love this site with all the helpful tips and friendly folks. A big thanks to all who have sent me messages of support. I promise I aint gonna let yas down. Banjo for dummies is gettin hammered I can tell ya!
Keep on pickin you lot and keep in touch
---

Guy Says:
Thursday, July 10, 2008 @3:21:25 PM
If you don't play, you won't know what you need to ask.
Keep pickin' and have fun.
Guy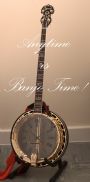 ragitty Says:
Friday, July 11, 2008 @9:37:29 AM
And the above message comes from a superb musician, whome I have had the pleasure of meeting so the advise is very valid. Guy your banjo playing will soon be as good as your guitar picking, enjoyed listening to your music. regards Lee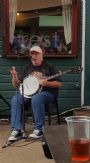 joemac Says:
Friday, July 11, 2008 @12:36:17 PM
You keep right on going my freind, if you need help, then your in the right place to ask, the people on here are just wonderful...Joe

BryanWB Says:
Friday, July 11, 2008 @12:53:41 PM
Hi Letham, yeah the guys are right - this is a great place to be when you're not pickin'. And I wish you all the best now you've started again. That's really good news. Take care. Bryan.

nature boy Says:
Friday, July 11, 2008 @2:41:30 PM
thanks a lot for your comments guys, you help me so much, I love it, Keep in touch and never stop- pickin`

DandyRandy Says:
Friday, July 11, 2008 @8:41:26 PM
Go to Musicmoose.org and you will have a good teacher.

nature boy Says:
Saturday, July 12, 2008 @12:49:11 AM
Thanks for the call, I`ll try that
You must sign into your myHangout account before you can post comments.