Posted by Yopparai on Wednesday, July 9, 2008
| | |
| --- | --- |
| The Kinnor! | I finished the bridge and nut - hmm, if thats what they call it on a lyre - and strung it up last night. It is a bit on the quiet side, but I am hoping that it will project more once I put a back on it. I was looking at that sound board and thinking to myself, "Hmm, that just doesn't look like cedar." Then I remembered that its not. It is actually spruce which I found at Home Depot one day and thought would make a nice sound board for something. So the final product is made of oak with a spruce sound board. |
| From the side | The strings are nylon coated wire fishing line. The good news is that the package states that they will be non-corrosive in salt water. I used 30, 45, and 60 pound line, but the lowest strings really need something a little beefier. I may have to buy some wound strings for the bottom two or three notes. If you pick those strings too aggressively, they waver a bit sharp before settling down to their proper notes. The have a particularly weak voice too. |
| The bridge | The bridge is rosewood. I feel better about using a smaller spacing at the tail piece now. The closer spacing, along with the angle of the bridge allowed me to use the exact same 1/2 inch spacing on the bridge notches as I did at the tuner end. That kind of unplanned symmetry should always be considered a good omen. Its difficult to see in the photo, but I sanded in a couple of arcs on the bottom to give it three feet. |
| The Nut | I was originally planning to have the nut be free floating, maybe with a spot of glue. After further consideration I decided to inset it so that it wouldn't wander off at some inopportune moment. It is oak, with a rosewood top. Its a bit massive, but I needed the height to clear the sound board and have the strings roughly parallel to the top, and I wanted the angled bit to give a bit of support to the strings as they ride over it. |

Over all I think this was a great success. I ended up with a cool new instrument to play with AND a new router table. I also have enough zither pins to pursue the harp project thats been rumbling around in my head. Since I usually use common items instead of specifically musical ones in my building, it pains me to have to say that zither pins are a great thing. I suspect these will be finding their way into other future builds. Still, they are pretty primitive, and at 25 cents a piece, their are inexpensive enough to appeal to my cheap side.


Here is my kinnor's video debut. The tune, as far as I know, is my own spontaneous composition. This video is a stunning example of why I do not usually speak when doing videos. I don't consider myself nearly as goofy looking and sounding as I appear in the video.
---
9 comments on "The Kinnor: Complete"

kallekockum Says:
Wednesday, July 9, 2008 @7:52:46 AM
Very cool! I love the sound. Nice tune too!

Dr. Jug Says:
Wednesday, July 9, 2008 @9:41:07 AM
Yes, the tune suits the instrument, and it must feel really good to play your own tune on what you made. The tuning is much better than I would have expected too. Good stuff all round, Yopparai. Thanks for sharing it.

Graypeddler Says:
Wednesday, July 9, 2008 @12:16:39 PM
Wow! Great sounding and impressive. There is nothing wrong with the volume fot that type of insturment. Truly something to be proud of. And the strings worked out very well. Good Job!

Ks_5-picker Says:
Wednesday, July 9, 2008 @4:41:15 PM
Hey,the thing sounded great. enjoyed it........thanks....;-))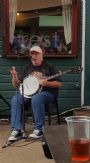 joemac Says:
Friday, July 11, 2008 @3:36:07 PM
Fantastic job yopparai.....you must be proud........joe
Trent in WA Says:
Saturday, July 26, 2008 @6:45:40 PM
Oh, man, that sounds beautiful - like a medieval Andalusian tune, and the kinnor is lovely too.

Yopparai Says:
Saturday, July 26, 2008 @6:51:54 PM
Thank you all very much. I have some heavier gauge line ordered, so the bottom two strings will soon have a little more substance. Nothing like playing and singing biblical Hebrew to distract you from banjo.

meritcooper Says:
Monday, November 17, 2008 @9:00:37 AM
You are most awesome! You would be a ton of fun to carry to a Ren Festival.
BEEFUS Says:
Saturday, December 6, 2008 @8:59:57 PM


yopp, you is a geniyuss!
You must sign into your myHangout account before you can post comments.