Woking on a new album right now...finally recording a new banjo tune I wrote. I know its not much to offer the banjo world, but Im feeling pretty good about it. Its been a few yrs since I last wrote and recorded any new banjo tunes. Anyway, there is a new banjo tune and a new guitar tune (with banjo of course) and a slew of original songs with me and my intruments as the main backing.
Flying out to Boston next week to finish it...Ill get back to you guys and let you know how it goes
tony
---
6 comments on "new album in the works"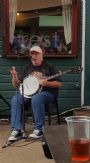 joemac Says:
Tuesday, July 8, 2008 @1:48:00 PM
Good luck with it all Tony........joe

Guy Says:
Tuesday, July 8, 2008 @2:32:25 PM
Hi Tony, that's great news. It'll go a little way to making up for missing you at Sore Fingers. We'd love to get you over here again sometime.
Guy

Wes Lassiter Says:
Tuesday, July 8, 2008 @8:25:00 PM
Well simply put I can't wait!!!

Rounder-Regulator Says:
Thursday, July 10, 2008 @6:45:32 PM
The banjo world needs you back Tony! Can't wait to get the new recordings.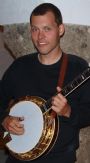 Violanjo Says:
Wednesday, July 23, 2008 @4:34:42 AM
I am often enjoying your picking at "Banjo Extravaganza". Did you write any tab books? I´d love to learn some of your pieces.

Tonyfurtado Says:
Wednesday, August 20, 2008 @10:36:12 PM
Well...first, in answer to Violanjo, yes, I have 2 books available at www.tonyfurtado.com and at my myspace site.

second, while Im am very excited about the new banjo tune I included on my new album (I think its going to lead off the whole album!) and I like the few banjo solos and dobro-banjo stuff on the album...it is not a lot to offer the banjo world. Im REALLY hoping to do an instrumental album soon. I would definitely get my fix of banjo tunes on that. We shall see

tf
You must sign into your myHangout account before you can post comments.