Posted by ksamp07 on Sunday, July 6, 2008
Hey Y'all,
This is my inaugural blog on Banjo Hangout, and may I say that I am ecstatic to see that there is such a good networking site for fellow banjo players.
My Name is Kevin Sampler and I live in Decatur, Georgia, a suburb about 10 minutes away from downtown Atlanta. I am 19 years old and I am entering my second school year at North Georgia College and State University, The Military College of Georgia in Dahlonega, Ga. I spent most of my high school days listening to rap/hip hop music, because that was the popular style of music at my school. It had all the appeals that a high school student looked for in music: it was loud, vulgar, and my parents hated it. I wore pants that sagged, shoes that looked as if they could have been astronaut boots, and had more fitted flat-billed hats than you could count. I spent about 6 solid years listening to the loud, obnoxious rap music that I couldn't listen to around adults because of its extreme vulgarity. Before my senior year of high school, my brother, father, myself and 3 of our best friends took a boys trip to go surfing on the west coast of Costa Rica. It was in the back of a Mercedes-Benz tour van barreling through the Costa Rican rain forest that I was introduced to the soulful, truthful souds of Hank Williams, Jr. I fell in love with the his music and soon began ditching the rap stations in Atlanta for the country stations. There was something about the twang on the guitars and whine of the fiddle that had me captivated. Started listnening to Country music more and more, and after a few months, it was all I had on my radio. Halfway through my senior year, my grandmother passed away after a long battle with breast cancer. It was in the weeks and months following her passing that I realized that I knew very little about my family heritage. I knew that my father's side of the family hailed from rural Murray County, Ga in the northwestern corner of the state. Unfortunately, that was about all I knew. I realized that my grandparents would not be around too much longer and I needed to learn as much about my heritage as I possibly could.
I graduated from high school and went to my first semester at North Georgia. Whie at school, I was constantly surrounded by Appalachian culture. Every weekend on the town square there was a bluegrass music jam festival. I began talking to my grandfather about my paternal heritage, and I instantly became fascinated. I wanted to learn more and more about my heritage, and every time I looked into the culture of the Appalachian hillfolk I found bluegrass music. I listened to bluegrass music more and more, and I was hooked. I listened to the mountain music whenever I could, wherever I could. I spent hours on youtube watching videos of concerts, music videos, and folks just sitting in front of their computer playing banjo.
The way I got my banjo was fairly humorous, I think. My girlfriend doesn't find bluegrass music quite as fascinating as I do, and as a joke I told her I would buy her a banjo for her birthday. I also told her I'd buy her one for Christmas, anniversary, etc. She would always say "Well as soon as you buy me a banjo, I'm gonna give it right back to you." I would always tell her that was fine because I would love to have my own banjo. Well Christmas came around and low and behold, what do I get for Christmas from my girlfriend? A beautiful Fender 5 string bluegrass banjo. I'm currently taking lessons and I continue to research my family's Appalachian heritage as well as the preservation and promotion of Appalachian culture.
Thanks for reading!
---
4 comments on "Finding My Roots"

bob gregory Says:
Sunday, July 6, 2008 @5:52:41 PM
g'day mate, it was good reading how you got interested in bluegrass and the banjo,i've been looking into my family history for years also very interesting.keep the interest going it's way of keeping your family history alive , you will never forget.
regards bob

pauwac Says:
Monday, July 7, 2008 @7:10:37 AM
Good for you. I hope you dig deeper and deeper into your local music because it will speak to you in a way no other music will. Good luck on your journey.

stanger Says:
Monday, July 7, 2008 @12:36:29 PM
Hi, Kev... Welcome to the Hangout! I'm very impressed by your heartfelt and well written account, and it's a very good thing that you're looking for your roots- while your music tastes may change again in the future, your connections, and the love you're developing now for the music of your home territory, will last forever and will always be a part of what you like and who you are. The banjo takes a lot of work and interest to succeed as a player, but you show the right stuff. I hope every minute spent with your new banjo brings a lot of pleasure to you.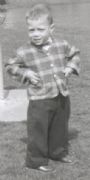 BConk Says:
Saturday, July 12, 2008 @4:13:49 AM
I second Stanger's comments - that was an enjoyable read and very well-written. Welcome to the Banjo Hangout.
You must sign into your myHangout account before you can post comments.