I was wondering if any of the rest of you have Ipods that are as confused as mine must be:
Ricky Skaggs next to Kid Rock...
"Banjo Bounce" next to "Freaks of the Industry"...
"Freight Train Boogie" with the Beastie Boys' "Intergalactic" following.
...I'm surprised the thing hasn't exploded.
---
5 comments on "My Poor Confused Ipod."

haiku Says:
Tuesday, May 13, 2008 @5:17:48 AM
Well, that's the beuty of those things!
A quick check on mine:

Abba is followed by Ac/Dc
Guess who comes just before Bruce Molsky? Yep, Britney Spears!
And our good friend Zepp's sound files come just before ZZ Top...

banjo-fireman Says:
Tuesday, May 13, 2008 @6:43:43 AM
I have Queen following Prince (that's always been funny for some reason); Red Hot Chili Peppers following Ralph Stanley & the Clinch Mountain Boys; Tony Trischka following Tone Loc and many other curious juxtapositions. It gets real interesting to Shuffle Songs.

Joanchek Says:
Tuesday, May 13, 2008 @4:48:21 PM
The first song I ever downloaded was "Blame it on the Bossa Nova." The latest tune I put on my iPod was "Low" by Flo-Rida. My iPod is a journey through great music, mostly but not all American, and I wouldn't trade it for anything.

gkuchan Says:
Wednesday, May 14, 2008 @10:36:08 AM
How's about Bob Carlin followed by George....5 things you can't play on the Banjo....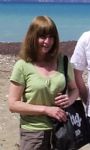 u k sandra Says:
Wednesday, May 14, 2008 @11:01:11 AM
Billy Fury, followed by Mary Z Cox, followed by the end music to `One Flew Over The Cuckoos Nest`. yes, my Ipods confused.
You must sign into your myHangout account before you can post comments.