Posted by ZEPP on Sunday, December 31, 2006
It's really been a month-and-a-half since I posted anything here.
Sure, I could say that I was busy with the store (very true, mind you), or I could point out the generally busy holiday season (also true), or I could just say I've been preoccupied.
The Christmas season brought my wife some emergency surgery, my dog a couple of collapsed lungs, my step-son a driver's license-losing speeding ticket, and a bunch of minor things to keep me busy and off BHO.
Anyway, I hope that things will now settle down, and I can return to a life of banjo-luxury!
Meanwhile, I just noticed that it's New Year's Eve, so I wish one and all a joyous New Year!
---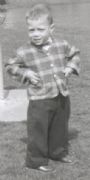 BConk Says:
Sunday, December 31, 2006 @4:40:27 PM
Yikes! I hope January is better - Best wishes on Mrs. Zepp's speedy recovery of her health and on your step-son's somewhat less than speedy driving...well, you know what I mean.
Happy New Year!
maryzcox Says:
Saturday, January 6, 2007 @7:48:54 PM
Hope your wife and dog are feeling better.
Best wishes to you in the new year, Zepp,
Mary Z. Cox
You must sign into your myHangout account before you can post comments.