The Late Great Irene was a weaver, and we bought a nice duplex. Downstairs was us, and upstairs was her two looms, a lot of shelving for her fabrics & yarns, plus two bedrooms for company, and a big kitchen for the heck of it. Basement was mostly banjo factory.
Corner lot, which meant lots of parking for guests. No garage. Which means no place to lock up a snow blower. Which means an extra half a city block to shovel, by hand.
I'm 66 inches tall, and the 2007-08 snowfall totalled over a hundred inches.
Figured I may as well find something smaller. But, about the time I put my house up for sale, along came the 2008 housing market slump.
Might be a heck of a lot simpler to build me a garage and buy me a snow blower, since i already know I can afford to live here.
And then comes the frustrating part: A goodly portion of the basement floor space is rendered unusable, because the air above it is crisscrossed with exhaust pipes from the boilersa and water heaters and central air ducts.
But there is a place for sale, well within my price range, which has only ONE of everything, and it's all installed off to one side. Would be a much more efficient setup. Can't buy it unless I sell this one, OR take a financial risk oif losing both places.
Perhaps the INTELLIGENT CHOICE would be to hang in HERE, for another 5 years, by which time the slump may be over, and this place will be so close to paid off that it don't make no nevermind, and I can buy pretty much any place I like.
Thing is, I'm an American. We The People are not all that famous for making intelligent choices. We want what we want when we want it, be it a gas-guzzling private automobile, or a giant television, or a different spouse, or a plate full of deep-fried heart attack.
---
3 comments on "House, Home,Stay, Roam"

Joanchek Says:
Friday, May 2, 2008 @5:10:23 AM
Mike, can you rent your current digs to a nice family (maybe one with a grandparent in tow who'd like a little privacy and a kitchen of his/her own ) and move anyway?
It's an option.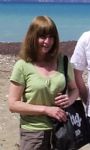 u k sandra Says:
Friday, May 2, 2008 @5:32:50 AM
Do what you want Mike. We might not be here in five years. Anyway, My husband ( he who would like to be obeyed, sometimes ) says that its better to regret something you`ve done, than something you hav`nt done.

mander Says:
Tuesday, May 6, 2008 @2:39:09 PM
Doing what you want is not the hard part. The hard part, for me anyway, is knowing what you want. Once you figure that out, the rest is easy. Good luck deciding Mike.

And Sandra, my husband made a point of making sure the word "obey" was NOT in our vows. That should have been a tip-off to me right then and there.... but dang, he had such soft lips..... Well, if you won't listen to your husband, the least you can do is kiss him once in awhile! :-)
You must sign into your myHangout account before you can post comments.