Posted by Joanchek on Thursday, April 24, 2008
I have always said that if you want to take a guess at a woman's age, look at her hands. It's hard to mask the everyday marks of passing time there. Hundreds of little nicks and oven burns from the kitchen, innumerable paper cuts (how can something so tiny hurt so much!), hangnails from hot water and no rubber gloves. My hands take a beating. But I've always taken good care of them, and I have some pride in my good-looking hands.
A couple of years ago, I had lovely fingernails. They were long, but not too long--an elegant but functional length. They were always polished in a tasteful color, and I could not abide chips and smudges. I didn't have them done; I did them myself and took my time about it. No clippers ever; only diamond files, please.
And then I picked up a banjo and all hell broke loose, manually speaking. My very first post here was about my suffering fingernails. My left hand nails are so short as to be non-existant. My right hand nails are a little longer, and polished with clear polish to keep them from splitting. Sometimes I like to work on a little clawhammer, and nails are important for that. My cuticles are usually fairly ragged on the right from the irritation of fingerpicks. And I have a few new, albeit tiny, prick-marks from getting poked with the ends of wayward banjo strings. My fingertip callouses aren't particularly noticeable unless I go without playing for a few days, then they begin to peel like a bad sunburn.
But with age comes wisdom, if we're lucky. So I like to think of my new, improved banjo-hands as older (looking) but wiser. These fingers have new skill, more flexibility and strength, and a capability to bring a little joy to the world.
Worthy trade-off, I'd say.
---
3 comments on "Banjo as Manicure"

banjotef Says:
Friday, April 25, 2008 @4:31:35 AM
That is a great written piece, Joan, with warmth and wisdom!
Thanks.

TopCat Says:
Friday, April 25, 2008 @12:40:17 PM
Oh how familiar this sounds Joan - the keeping the left hand nails clipped short, that is, plus the callouses. ;o)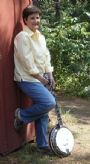 Banjosnob Says:
Wednesday, April 30, 2008 @4:38:35 AM
I told a patient (I'm a nurse) that I play the banjo. He was just waking up from anesthesia and quickly grabbed my left hand. Looking and feeling my callouses on the tips, he commented, yes I guess she really does!
You must sign into your myHangout account before you can post comments.