Posted by wkb28791 on Sunday, March 23, 2008
I suspect that at some point in the future, I'm gonna look back at the events of the last couple of weeks and see just what affect they have had on my life.
I had to give up my beloved Polly. That's the girl in my avatar. My family and some of my neighbors made their feelings known concerning Polly's activities. Its not so much that she was dangerous but her loud yelping just couldn't be tolerated any longer. She was born to track and alert and that's what she did, all the time......in spades. This was one of the toughest things I've had to do and when the guy showed up to take Polly, I couldn't bare to stay and talk. In fact, I cried; not something that I cared for anybody to see. I feel good enough about the gentleman that took polly. He is a full blooded Cherokee living on the reservation here in western NC. He has lots of land and a number of other hounds that he likes to get out with and let them run. According to him, he doesn't hunt so much as he just enjoys listening to a pack of hounds on the track. Polly will be in heaven in that environment. He promised to be good to Polly and he gave me his number and told me to call him and he would be glad to give me a report on her progress.
Still, this hurt in ways that I never thought I could hurt. I miss her.
And then finally, I lost a dear friend on Good Friday. I can't remember ever feeling this alone. Its as if everything that I hold dear is being taken from me.
Well, things can only get better and I know they will. My school work is going well and I look forward to some positive changes in the future. And......I still have my banjo. I know that doesn't seem like much but you'd be surprised how much just sitting there and picking soothes and calms me. Even though I'm not very good, I still enjoy it.
Maybe someday my dream of actually playing in a band will materialize.
Well....thats all for now......right now its Easter; The beginning of a new and better time and I am thankful.
---

inniepie Says:
Sunday, March 23, 2008 @1:08:31 PM
I am so , so sorry about Polly, and about the loss of your friend....

PruchaLegend Says:
Sunday, March 23, 2008 @1:15:26 PM
Ken, I'm truly sorry for your losses. It seems like that should never happen to a person but it is the way of life. I'm also happy that you can get some solace from your banjo. I guess that's also a way of life.
Continue to dream of playing in that band and it will come to pass. A little practice here and a little practice there and pretty soon you'll be playing anything you want and anything anyone else wants. The way to the band starts with just one more roll or one more lick. As you say, "The beginning of a new and better time..."
A lot of us are with you even if we don't reply directly. Our hearts and minds are filled with the best of thoughts for you.

Badger Says:
Sunday, March 23, 2008 @5:05:22 PM
Ken, I know it probably doesn't help much right now but at least you know that Polly can be happy where she is. I sympathize over the loss of your friend. Years ago a good friend of mine was electrocuted at work. I well understand about the comfort of playing an instrument while facing grief. Jesus says in Matthew 5:4 Blessed are they that mourn: for they shall be comforted. I will be praying that he will send comfort your way in this hard time.

Chesapeake Says:
Wednesday, April 16, 2008 @3:50:58 PM
Glad to hear Polly's in a good place.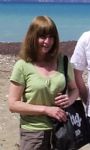 u k sandra Says:
Monday, April 21, 2008 @2:13:38 PM
Ken, most of us here would have cried. I could have cried just reading about it. We lost our old dog in January and my big strapping husband cried like a baby. He still gets upset talking about her. At least it shows you are human and probably a nice bloke.

BANJ58 Says:
Saturday, May 31, 2008 @3:08:34 PM
Ken

I know how you feel. When you come to the Gathering, I will show you my pal, which I am trying to find a home for. He is a Rotty, and my campers are afraid of him, so I must let him go as opposed to keeping him tied up.

Sorry for the loss of your friend. That hurts deeply.

Steve
You must sign into your myHangout account before you can post comments.