Well folks, today is my wedding anniversary ( 38 years ) and number one son has decieded to take us away for two weeks to search for some sun, so we`re off to Cyprus on Sunday. Two weeks without my banjo. I`m missing it already. I was even tempted to take a fiddle with me out of desperation but the way I play we would be thrown out, so I`ll have to just grin and bare it. Its not going to be easy. If anybody wants me for anything, don`t think I`m ignoring you because as well as not having a banjo, I also don`t have internet access. I`ll get back to you as soon as poss. Guess what, its just started to snow. Roll on Sunday.
---
4 comments on "No banjo for two weeks."

BryanWB Says:
Friday, March 21, 2008 @12:24:31 PM
Hi Sandra! Have a super holiday, I'm sure you deserve it. Best wishes, Bryan.

randyblair Says:
Friday, March 21, 2008 @5:04:04 PM
Hey Sandra
Congratulations on 38 years! I went 1 week without my banjo while I was in Mexico, I brought along some bluegrass tapes and a walkman ...hearing Earl Scruggs play while laying on the beach was quite a treat and a pretty unique experience. Two weeks without a banjo, I dunno if it can be done (LOL) but I am sure you will find out unless providence provides a banjo in Cyprus (you never know, anything is possible). Have fun in the sun, Randy

TopCat Says:
Saturday, March 22, 2008 @5:32:03 AM
Hello friend,
Sorry to hear you will be banjo-less but I'm sure the sun and sea views will be a nice change from our never ending winter. Just woken up to a thick blanket of snow here in West Yorks too. Wasn't spring supposed to have just begun? TC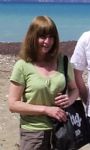 u k sandra Says:
Saturday, March 22, 2008 @4:24:41 PM
Thanks folks. I`m missing you already. I`ll be thinking of you all.
You must sign into your myHangout account before you can post comments.