Posted by Stev187 on Monday, March 17, 2008
My custom Chuck Lee arrived yesterday, and I love it. Below is a video taking just after I got it out of the carton:
In the car, I dreamed up this silly little rhyme based on the "how old are you / you live in a zoo / you look like a monkey..." version of "Happy Birthday."
Happy Birthday to me
I got a Chuck Lee
It's a fine consolation...
For turning forty!
Actually, I don't require any consolation for turning 40. I actually think it's pretty cool.
But my Chuck Lee banjo is cooler. It's going to take a while for me to settle in with it; when I do, I will write a review. Here are my initial impressions. I will not mention cosmetics here because the thing is just flawless. These are all about playability and tone:
The action is "stiff," which I like. It will take getting used to. I like resistance from the strings, and this one has more of it than my Reiter or Ramsey. This surprised me because I think it's a slightly shorter scale length. But again, this is a plus.

The neck is wonderfully shaped, but I need to get used to it. Back behind the 5th fret it is "crowned" a little (i.e. it comes to a slight point--you can't see it, but you can feel it). Again, I like this, but it's new.

Middle finger. I cannot figure this out, but the angle of attack with my frailing fingers is very different on this banjo. If I frail with my index (which is what I usually do), I get a lot more skin from the side of my finger than I do on my other banjos. That mutes the sound quite a bit--a lot less "click" and almost no harmonic "cluck" with the index. Switch to middle finger and its click-n-cluck city. This is actually quite cool--it's like having a dampening switch! I need to play around with it.

Volume. This thing is loud, and with just a wooden tonering.

Third string. This is the only negative thing I have noticed so far, and it could be a set up issue or an issue with my attack. The 3rd string has a "muted" sound, particularly fretted. I often fret notes on the 3rd string so I need to find a solution to this. A simple way to address it would be to swap bridges. I don't really understand what is causing it yet, so I am not going to mess with it. It could just be a characteristic of this banjo.
I'll be updating with my thoughts. Oh, and Chuck asked to put my little video on his web site. I wish I had done a better job playing--maybe he'll let me update it later.
---
7 comments on "Chuck Lee Banjo Arrives!"

frailin Says:
Monday, March 17, 2008 @4:09:36 PM
Wowie!!

I couldn't see that close enough. Need to hear it better, too. Send it to me for a better review, ok? I'll get it back to you... sometime... maybe.

Happy Birthday!

Craig
maryzcox Says:
Monday, March 17, 2008 @7:49:17 PM
Congrats on your new banjo!
Best wishes,
Mary Z.Cox

FiddlerFaddler Says:
Monday, March 17, 2008 @11:21:10 PM
I was mesmerized by the nice tone. I can hardly wait to see the banjo you'll get when you turn 45 (or maybe 42?).

Studebaker Hawk Says:
Tuesday, March 18, 2008 @8:58:16 PM
I said it before and I'll say it again, we're living smack-dab in the middle of the golden age of banjo building. Beautiful five-string you got there... and you REALLY know how to play it, too. Very cool!

Banjo Rob Says:
Wednesday, March 19, 2008 @5:44:26 AM
Congratulations on the new banjo! It looks really awesome. Is the fingerboard mesquite as well? Whatever it is, it has a really clean look. The walnut is very pretty, also. I'm wondering about the scoop and the shape of it. You referred to a mini-fret when drop thumbing. Is that due to the curvature of the line in the scoop itself? I think that's what you're talking about, but can't see it too clearly in the video.
I also appreciate your detailed notes on the banjo. That stiff action must be nice. And the differences in tone as far as what finger you play with was interesting. As a newbie, I'll try that myself.
Enjoy! Keep us all posted as you find more out about the new banjo!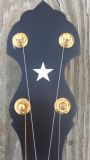 RWJonesy Says:
Wednesday, March 19, 2008 @6:50:42 PM
Beautiful combination of Walnut and Mesquite. Chuck does wonderful work...and you'll do the instrument justice as you play so nicely. Happy belated Birthday Steve !!!
derwood400 Says:
Wednesday, March 19, 2008 @9:38:03 PM
Hi Steve,
Thanks for the comments on Cookie the Boston. She is a real sweetheart. She's about 7 now. I rescued her from a not-so-great situation when she was about a year and a half old. I can't take her to work, but she's at my side the rest of the time.
Happy B-day, and congrats on the new banjo. Its a great looking one, and as always you play it fantastically.
Happy Birthday to you
You got a new ban-joo
It looks really nice
And sounds pretty cool too!
You must sign into your myHangout account before you can post comments.