Posted by frailin on Sunday, February 24, 2008
Singleton Street was here at my church in Rosemount last night, performing songs from our just-released CD, "Wingin' It!" I've got a GREAT church! Rosemount United Methodist hosted our celebration in the same hall DeAnne and I were married last September. As expected, the lights, sound and comfort make this place one of the nicest venues we're ever played.
Here's a couple of youtubes of some of the numbers we performed. Enjoy, folks (we sure did!).
Oh, the sound is low, so you'll have to crank up the volume some.
How about a little Red Clay Halo...
And here's Chuck singing I Saw the Light.
Sherri is doing Jimmy's favorite number, here... By the Mark
Chuck tells a brief story about life with autism before he and Sherri sing The Harvest. Now you know part of the reason we like to spread hope about autism at our performances.
Next, one of my favs, Get In Line Brother!
And last, one of our FAVORITE closing songs, When I Lay My Burdens Down.
Oh, and if you'd like to buy a CD, you can get them NUMEROUS places! Here's a few links!
Morningstar Folks Arts: (Elaine Diller's store... Dwight's wife).
---
3 comments on "Singleton Street LIVE! Videos from 2/23/08 CD Release Concert."

DandyRandy Says:
Sunday, February 24, 2008 @8:20:46 PM
Great!

Badger Says:
Saturday, March 8, 2008 @9:03:06 PM
Hello Frailin,

I just listened to them play By the Mark. Nice rendition. I have that on the Dailey & Vincent album. Unfortunately I got that off of itunes, so I have no liner notes. Which leads to the question--who wrote it? Dailey and Vincent have a couple of Statler brothers songs on their CD, so they don't write all of their stuff, but a google search only returns them for By the Mark.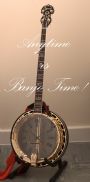 ragitty Says:
Monday, July 14, 2008 @5:56:56 AM
Great stuff, just love it. very very well done. thank you.
You must sign into your myHangout account before you can post comments.