Thursday night my hubby and I went to a different jam session. We had been invited numerous times to a newly started jam session a bit closer to us for the past few months It was just one of those 'make yourself get out there and do it' reasons for not going. We finally decided to go and wow, I really had a good time!
I started out jamming about 2 years ago and pretty much just got used to my group. As with any jam session, there are people you like and ones you wish wouldn't go, but hey.. you might be one of those to someone else! Our regular jam session, while I have learned SO much about playing with others, is most the time loud, flat out playing without a lot of thought to how others start the tunes and staying with that tempo. The same tunes are played every week and I find myself just backing because they are played so fast, i can't keep up. I have gotten used to it, but I'm not always keen to go.
The one we went to this past Thursday is not typically bluegrass or old time, but a bit of everything thrown in as well as a new-to-me genre - Irish music! There are 4-5 Irishmen that go and are truly wonderful at what they play and sing. Everyone is very polite - they back off when someone plays the lead and are very encouraging to all. Looks like I might have a new jam session that gives me something to look forward to! I'm already breaking out the books and looking for new material to play!
---
3 comments on "Went to a new jam session"
Greg Connor Says:
Sunday, February 10, 2008 @1:24:03 PM
Nothing will get the juices flowing faster than playing with someone new, even if it is just a new addition to an old group.
I play bass guitar on Tuesday nights with a group of retired people, who like to play in nursing homes around town. I play guitar (and now a little banjo) on Thursday nights with a group of instructors from the local college. The jams are as different as night and day. They are both a lot of fun!
Last Wednesday I got invited to a third group. Three in one week is too much for me on most weeks, but last week seemed to work out. I decided to be brave and only bring my banjo (No guitar to fall back on). I had a great time. I found a freshness in it, just as you did with your Thursday jam.
It's a great hobby!

tklassen Says:
Sunday, February 10, 2008 @2:22:35 PM
My experiences have been similar, sometimes its not what you play but who you play with that makes music and the creative juices flow.
tk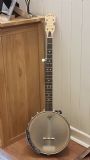 TomJoad Says:
Monday, February 11, 2008 @7:12:54 AM
Yes, playing music with others is very much about the character and personality of the people present. I have been playing in trad. Irish jam sessions in central Manchester for many years. There was--I am not sure if it is still going--one session initiated and "hosted" by a genial elderly Irish fiddle player who played his own set of tunes--the same ones every week. They were a mixture of irish, Scottish, English and American old timey tunes.

He was very open and sensitive to what other people wanted to play. He would play a set of 3 tunes and then sit back quietly and have a break. In the break, others would initiate different tunes and everyone joined in. When the Irishman had gone through his whole set, the session opened up and people played anything: Scandanavian fiddle tunes, old time and kletzmer. It was a great place to learn new music.


You must sign into your myHangout account before you can post comments.