Not exhaustive, but an overview of the Asian entry level banjos currently available built on the ubiquitous 30 bracket aluminum rim/tonering.
Banjos based on the "infamous' 30-bracket aluminum rim:
Epiphone MB-200 Banjo
(several sources)
Chrome hardware, resonant mahogany body, and rosewood fingerboard with decorative inlays. (Hearts) 26-1/4 scale bolt-on mahogany neck with rosewood fingerboard, and 1-1/4" nut width.
Waverly type tailpiece,
Planetary tuners, geared 5th string peg
.U.S. Remo head Golden Eagle on resonator back.
$250
FENDER® FB-54 RESONATOR BANJO
(several sources)
Mahogany resonator and neck, aluminum rim, rosewood fingerboard, gloss natural finish, 27.4" scale,
guitar style tuners.
Same fretboard and peghead inlays as Epi MB200,
geared 5th peg,
same armrest, plain tailpiece.
$319
Oscar Schmidt OB5 Banjo
- (Janet Davis, others)
Same neck, pegboard inlays as Epi MB200, same resonator and armrest. guitar tuners,
geared 5th string tuner.
Same tailpiece as Fender
$219
Ashbury AB-35 5 str Banjo
(Hobgoblin Music)
Same resonator an neck as Epi MB200 etc.,
dot inlays,
"standard chrome tailpiece" (same as on Fender, Oscar Schmidt, Rogue, etc. Appears to have guitar tuners.apparently friction peg,
$295
Rogue B-30 Banjo
Mahogany neck with a nato resonator. Rosewood fingerboard and bridge. Same peghead "snowflake as Epi MB 200,Fender FB 54,etc.
rectangular fretboard inlays
. Same "standard" armrest as Fender, Ocscar Schmidt. Remo head. Covered chrome machine heads
(guitar tuners) friction 5th peg
.
$150
*
Washburn B9
* Same neck,resonator, arm rest as EpiMB200 etc.,
Waverly-style tailpiece,
dot inlays
, appears to have
guitar style tuners
? and
geared 5th string tuner
*
List price: $415- did not find a dealer listed price.
Newly found addition to list:


Banjo 5-String Tyler Mountain TM5-60
(same as Epi MB200, or pretty nearly identical)
Mahogany Neck & Resonator with brown gloss finish.
Rosewood fingerboard with Hearts and Flowers inlay.
Neck includes adjustable truss rod.
Aluminum shell tone ring combination.
30-bracket with Remo banjo head - Smooth White.
Chrome hardware including arm rest.
Planetary geared chrome tuning machines.
Chrome geared 5th tuning peg.
Includes 1-YEAR WARRANTY.
Given that the banjos were all probably made from the same stock of standard parts, what accounts for the differences in price? The main differences between the Epiphone and the Fender (other th
---
4 comments on "A survey of 30 Bracket Aluminum Pot Banjos"

dikdik Says:
Tuesday, January 1, 2008 @3:11:43 AM
Jenes Cottrell, an old-time carpenter/wood turner from West Virginia, used to frail a banjo he'd made from native walnut and an aluminum pressure cooker. Add his walnut resonator, and it rumbled like old plumbing.

Klondike Waldo Says:
Tuesday, January 1, 2008 @10:44:05 AM
It bet he really cooked!

big shrek Says:
Monday, June 9, 2008 @6:28:01 PM
I've got a 5-string Alum pot banjo that I can't find out who made. The only markings of any consequence are the "Heche en Mexico" type eagle on the end of the neck between the pegs and the Eagle on the resonator with three arrows in the right claw & an olive branch in the left.
There is a list of all asian manufacturers but it has VERY few pictures to tell which manufacturer is which. (www.hawthorne.fastie.net) It's not that I think the thing is worth much, it's just that I'd like to know Who Made It?? It's nice to be able to tell folks what banjo you are playing instead of saying, "I dunno what it is, sounds nice tho..." Heck, I'm about 5 steps from refinishing it and putting MY name on it just so I can give a decent answer.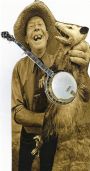 My Golden Says:
Monday, March 2, 2009 @12:34:59 PM
I recently purchased a Rogue banjo from Music 123. It was marked way down, and dirt cheap, so, I couldn't pass it up. The planetary tuners on it are nice. I had to install a new 5th gear tuner...slipped pretty bad, and my hemp wound didn't last. I put a new tonering in, and this little beauty rocks a billy tune purty durn good! It's a better starter banjo for my students than the one I had years ago when everything slipped! Interesting survey.
You must sign into your myHangout account before you can post comments.