Since the Hangout is what I do INSTEAD of doing the projects I should be doing, it gets to be where I will list the damp things.
Finish the Seeger-neck banjo.
REMEMBER the cool name I came up with for a band, and call my band that.
Finish the Expensive Parts banjo (Body bought from one BHO guy, rez from another. Try sell it, hope to break even.
Do one Art & Crapft Show a month.
Get a good bookkeeping program, and update weekly.
Clean (and keep clean) the workshop.
---
6 comments on "Projects for 2008"

fisher Says:
Saturday, December 22, 2007 @3:01:57 AM
you forgot,write list down incase computer malfunctions

dpete210 Says:
Saturday, December 22, 2007 @11:00:12 AM
Mike, I don't think you will have any problem finding plenty of projects to do :-) Nice banjo! Merry Christmas! Dave Peterson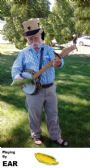 mike gregory Says:
Saturday, December 22, 2007 @11:46:07 AM
Well, shortly after I awoke this morning, I remebered the band name:
The Trylenaires!
Our slogan, our motto, our Principle of Guiding Statement-
"All song arragements are by the Trylenaire Mthod!"

banjeaux bob Says:
Thursday, January 3, 2008 @3:11:11 AM
Mike,how deep is it in the basement now?Can you even get to the washer and dryer?I know there is nothing of mine down there anymore!

Bob

Nancy Says:
Tuesday, January 22, 2008 @11:04:04 AM
Mike, your comments on the Hangout are beyond price, and cause smiles to happen to all that read them.
You are a fun person, and really have a way with words. Glad you are my friend.
Moth Says:
Wednesday, March 5, 2008 @1:46:37 PM
Geez...I need to put my reading glasses on! Yep my wife is the one on the right and she is a keeper! Thanks for your relentless humor.
Cheers,
Daniel
You must sign into your myHangout account before you can post comments.