Posted by quikcarl on Wednesday, December 12, 2007
About a week ago I blogged on here about buying another banjo with a wider neck, and that I had talked with my teacher. He said we could, based on my measurements, build a new nutt and get the clearance I needed for these old fat fingers. I am tickled to say that I got my banjo back today, after only being without it for 1 evening.....thanks Donnie.......and man is she saweeeeeeet. Not only did he build me a new nutt but he fixed a chirp I had in the tailpiece, and tightened the head and pot, its not even the same banjo, I couldn't beleive the difference, all I want to do is hold my baby and listen to her sweet sound. Each and everyday I learn more and more about banjos and what makes them tick, it helps to have someone with over 40 years experience teaching and working on your stuff, Donnie is an awesome teacher. Donnie has a signature banjo with Yates banjos and thats a sweet piece also, he plays with the Flowers Family out of Mt. Holly, NC and just about anybody that loves bluegrass, check him out at the Yates website. I would also like to take this opportunity to thank Mr. Eric Schlange for his hardwork and dedication to this site as well as the Fiddle Hangout, thanks Eric for giving us banjer players an outlet for our love affair with such a fine instrument, and thanks to all who visit the site and have responded to my blogs, hopefully soon I will post some songs as soon as I get the H2 figured out. To all I wish a very Merry Christmas and a Happy New Year. Carl
---
2 comments on "got my banjo renutted.......and its sweeter than ever....."

PruchaLegend Says:
Thursday, December 13, 2007 @12:12:26 AM
Glad the 'fix' worked, Merry Christmas to you too!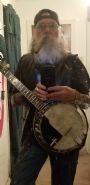 5stringpicker2 Says:
Tuesday, February 23, 2010 @10:36:00 AM
It'a amazing that something like a new nut and some, as we say in the Biker World a little Wrenching can accomplish. Congrats on your "New Banjo" cause I know it must feel like that now.

(I )===='----<::)
You must sign into your myHangout account before you can post comments.