They came on Friday. My new renaissance head and moon bridge ( along with some case stickers and some pens, Thank you Zepp ). I could`nt wait. Off came the strings, all of the hooks, the tailpiece and the head. I was a bit worried incase it didn`t fit because the banjo is a no name that I bought from ebay so I had to measure the head myself but no bother. It fited fine. I put it on, put the tension hoop back on, started to put the hooks back on and what do you know, they all fell off. As soon as I tightened them, off they slipped. After about an hour I was pulling my hair out so I did what anybody would do and went on the internet to see where I was going wrong. Isn`t it amazing how you can play a banjo every day for months and months and not really look at the tension hoop?. How was I to know it was upside down. I didn`t know there was such a thing as groved tension hoops. I do now. On went the hooks, no bother at all. I spent all day very carefully tightening them and them discovered I had no spare strings.
Next day it was off to Newcastle for more strings. Newcastle, four weeks before Christmas with a Newcastle United V Liverpool football match on is a nightmare. A 15 minute drive to get there and I got home 5 hours later. Well, I did need one or two other things. I`m a woman. Can`t miss a chance to shop. Got the head tightened up a bit more, put the tailpiece back on, it wasn`t really off, its a no knot tailpiece so it was just turned around and dropped, put the strings on and after about an hour moving the bridge to where it thought it should go ( I`ve worn out the batteries on the tuner ) I got to try it. I couldn`t believe it. It sounds like a million dollars. Who would have believed changing the head and putting a moon bridge on could make such a difference. My £ 216 ebay banjo now sings like an angel. I can`t put it down. I wish I could put new batteries in my fingers. Its been a lovely weekend.
---
5 comments on "Lovely weekend"

Joanchek Says:
Monday, November 26, 2007 @9:39:14 AM
Sandra, sounds like a great weekend, and I am glad your banjo sounds so good! Now, what else did you buy? The gals want to know!! :D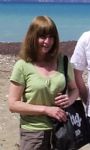 u k sandra Says:
Monday, November 26, 2007 @1:20:25 PM
Wait until I have a think Joan. Nothing very good. I know I bought a new big pan. My husband wrecked the last one by scrubbing the non-stick off it. I bought one of my sons a coffee maker because thats what he wants for Christmas. I also bought some Christmas cake decorations and some odds and ends that I`ve forgotten about. See, I told you, all very boring ( except the banjo strings ). No shocking pink shoes with ankle straps and five inch heels like last year. One day I might even wear them.
Honestly, the crowds were so bad I could hardly get in the shops.

flowerofthewest Says:
Sunday, December 2, 2007 @5:08:45 PM
I was reading this thinking it was for your Goodtime banjo. And find out it's for your other banjo! How about a picture of your banjo and a sound file to go with it???
:-)
Jody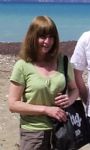 u k sandra Says:
Monday, December 3, 2007 @3:31:49 PM
Will do Jody, but it won`t be until Wednesday because we have out end of term concert at The Sage tomorrow night an I`m working my socks off getting Garsters Dream up to speed.

randyblair Says:
Sunday, December 9, 2007 @10:48:35 PM
Way to go Sandra...always happy to hear when a banjo gets a second, third or even a fourth wind! You know I wil just have to check out a moon bridge now...
Happy Pickin!
Randy
You must sign into your myHangout account before you can post comments.