Posted by frailin on Saturday, November 17, 2007
Today is Saturday, November 16th. The last two days have been both the most incredibly stressful and incredibly rewarding of my life! After years of performances, preparations and saving our pennies, Singleton Street entered the studio on Thursday and, late Friday night, emerged with a 13 track Gospel CD. Hallelujah!
For years we'd been in the planning. This summer, we'd finally scraped enough cash together to head into a studio to record our long overdue Gospel CD. Our first CD, "Almost Live" was a compilation of both bluegrass and Gospel.
That had been an excellent experience, and we broke even in under 2 years (1,000 units), but we'd been left longing for the chance to dedicate a CD just to Gospel. Needless to say, we weren't about to miss a thing in this experience. We chose Pachyderm Studios in Cannon Falls, MN. In the 80's and 90's, this place served up clients like Nirvana, Eric Clapton and Soul Asylum. It's not quite as lustrous today (thank goodness), but the karma and charisma are still present. The sound board was reputedly used by Jimmy Hendrix and, as the story goes, John Lennon once put his feet up on the corner. Makes for a good story.
Our engineer was Zach Hollander, a wonderfully smart, funny, patient magician that took our voices and instruments and worked magic.
Where the studio was vintage 80's with warm woods and tube equipment, the grounds were equally as welcoming... stunning, actually.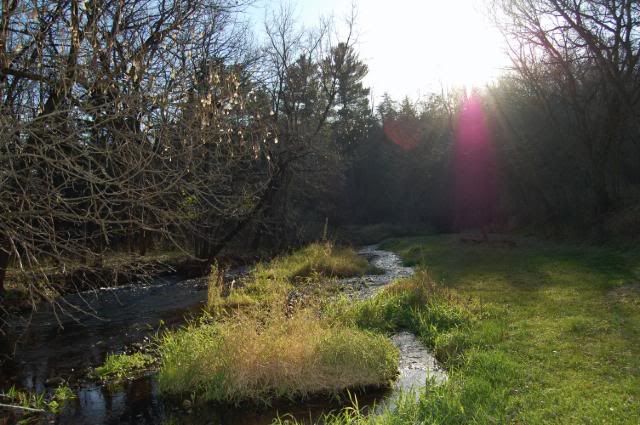 Both days were filled with intense recording sessions which proved both fun and exhausting.
Every take was scrutinized for good and bad... until we finally arrived at the right mix.
6 comments on ""Wingin' It." A Singleton Street Gospel Recording Adventure!"

Joanchek Says:
Sunday, November 18, 2007 @11:10:09 AM
Craig, I cannot wait to hear your labor of love! I love the cover. I hope that the pressing is soon enough for some holiday orders...
Best wishes for all success with this new CD.

Bongshang Says:
Sunday, November 18, 2007 @12:09:31 PM
Beautiful studio and surroundings. That's definitely going to have added to the good vibe on the cd. I'm quite taken by that exterior lamp though, I got to make me one of them, Cheers, JJ

Zawinul Says:
Sunday, November 18, 2007 @1:21:42 PM
I bet this blog will make some browsers crash. But not my trusty Firefox!

FretlessFury Says:
Tuesday, November 20, 2007 @9:30:28 AM
Wow, Craig! Wow!

Great post, great photos. I'm inspired.

Can't wait to hear it!

Tom

bluemusic4us Says:
Thursday, November 22, 2007 @12:11:16 PM
Thank you for the nice post.
I really like that cover artwork !!

lori nitzel Says:
Saturday, December 1, 2007 @10:53:54 PM
yep, totally freaking love that cover. deanne totally rocks. :)
You must sign into your myHangout account before you can post comments.