Posted by BConk on Sunday, October 28, 2007
On Friday, October 26th, I had the privilege of giving my daughter's hand in marriage.
My only child, my darling daughter Roxanne, who has meant the world to me since the moment she entered my world - has become a beautiful, loving woman over the years.
Though very happy for her in finding love as she so obviously has, my feelings were not without tinges of pain and remorse.
Yes, the father worries always about the life of his child - or so he should. Yes he stands at the head of the aisle holding a hand once so tiny and covered with the stuff of another world - a world deep within a woman he once loved.
Yes he recalls the emotions that swirled through him as his daughter came into his world. He recalls the dreams he had for her then. He recalls each step of her growth and he recalls the way his heart strings were plucked every time she called for her daddy.
But sometimes - as was my case - he also recalls standing, filled with pride as she took the hand of a different man in marriage. A man that she asked him to love as his son. A man he did come to love as a son. A man he can still see in the eyes of his only grandchild. A man he now worries about - as he would worry about his own son if he was in pain.
Yet there I stood on Friday - filled with pride and joy. Happy with the surety that this child of mine, this woman I stood with - has given me so much, has given me the surety that the one thing I truly HAD to do in life - I did very well.
My worries and fears calmed by the love that emanated from my daughter as she gazed intently, down the long aisle into the eyes of the wonderful young man she loves - and he gazed back - with eyes I recognized.
And so, down the uneven path of stones, through a garden ablaze in the autumnal colors of New England, we took our steps - like baby steps, slowly, carefully, happily.
Roxanne and Joseph - may you enjoy forever the love that you've showed all those so blessed as to witness your wedding.
---

ErnieJ Says:
Sunday, October 28, 2007 @11:06:27 AM
This is bringing tears to my eyes. I know your proud.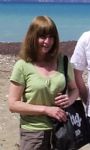 u k sandra Says:
Sunday, October 28, 2007 @11:08:58 AM
But you`ll always be the first man in her life. Nobody takes the place of our dads.

Joanchek Says:
Sunday, October 28, 2007 @11:32:11 AM
Congratulations, Brian! I am sure you had an emotional day with mixed laughter and tears. Best wishes to your daughter and son-in-law for a life of love and laughter together. Roxanne learned both of those things from devoted parents--you should both be proud of her.
I've always said you don't marry a person; you marry a family. Joseph chose a wonderful family to join!

HoosierGal Says:
Sunday, October 28, 2007 @3:04:43 PM
Dads and daughters - there's not a lot more spectacular, especially at such a momentous occasion. I'm so happy you appreciate such moments, it seems you've got a big heart full of great good Brian. Congratulations to you all on the expansion of a beautiful family.

frailin Says:
Sunday, October 28, 2007 @8:56:28 PM
She stunning. And happy.

Congratulations, Brian.

Craig

just a picker Says:
Monday, October 29, 2007 @12:52:58 AM
You didn't lose a daughter................you gained a son !!!!!!

mainejohn Says:
Monday, October 29, 2007 @8:54:22 AM
What a beautiful young lady and handsome groom! Thank you for sharing your feelings. As a father of two (unmarried) daughters I can only imagine your emotions and pride that you experienced that day. Daughters are so precious...they bring so much joy to our lives!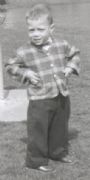 BConk Says:
Monday, October 29, 2007 @9:05:32 AM
Thank you all so much for your kind words :o)
I got a li'l bit teary eyed when I wrote that and it means quite a bit to me to have my closest friends here share even a little bit of the joy and pride I felt. Thank you all.
You must sign into your myHangout account before you can post comments.