I have certain image to maintain. The Miserable Old Git (MOG) is a persona I have cultivated in print and in person for many years. It's easy to pull off if, as in my case, it's within a Rizla paper of reality.
It keeps people away from my corner in the pub and generally makes sure I am left alone, free of small talk if I'm near an office water cooler, social chit chattery when I'm watching shows (which is work for me) and generally untroubled by that hell-on-earth, other people.
In the lexicon of Moggery I like to think I can appear apathetic, boorish, cynical, didactic, elitist, fractious, graceless, humourless, insensitive, jarring, knocking, loathsome, meretricious, nasty, opinionated, peevish, querulous, reductive, sarcastic, testy, unpleasant, vituperative, withering, xeric, yahooish and something beginning with z.
So, don't let this be known too widely, but everything in the World of Sid at the moment is pretty hunky dory. What a quaint and charming expression that is, by the bye. Ditto that.
There are downsides to my life. Yes, the great 21st Century novel has been abandoned. Wry smile.
The groundbreaking radio comedy series doesn't seem to want to go beyond the first page. Wry smile.
My nails are not good – a serious preoccupation for anyone playing guitar and banjo with their right hand fingers. The persistent muscle niggle in the thigh is back, meaning I can't clock up the treadmill miles I need to get my body mass index down to a figure my medical advisers will approve of.
But the upside is that various musical side projects are flourishing. I'm still keeping at least one lesson ahead of the grandchildren in the dummy's guide to learning the recorder, for instance.
My blood test numbers have been coming back, as Star Trek's Data would have it, within accepted parameters – cholesterol, blood pressure, even blood sugar (I am a type 2 diabetic).
And, the cherry on the iced bakewell tart, I've ordered a new bike.
No just any old bicycle, mind you. They're produced in extremely limited numbers and my name is on one from the next shipment due into Britain later this month.
American company Specialized (with a z), famous for iconic mountain bikes, put together a highly specialised (with an s) machine aimed at cycle couriers in Manhattan. With no mudguards, it's so light it virtually floats and is powered by a single gear – known in the trade as a fixed wheel.
It's the kind of steed raced in track events, and you can't freewheel on it. The pedals keep turning come what may. Once you get used to this method of propulsion, it's addictive.
In Darwinian terms, your fixed wheel rider is a Neanderthal. It's going back to basics big time, the same mechanism as a penny farthing.
It's cycling as pure fun, unadulterated energy, transporting the rider who manages to stay aboard into a simpler universe where a smile is your birthright, joy your soul's companion.
It's a truly spiritual experience, standing as a metaphor for the best way to handle anything life can throw at you – spin and grin as opposed to the Scruggs' clone's pick and grin. I'll mention that if I ever get to do a God spot or epilogue on radio or television. I'd need a vat of Jack Daniels to do it, of course. Rye smile.
---
8 comments on "Smiles more Sid"

Evil Says:
Tuesday, September 18, 2007 @2:10:46 PM
best of luck with the fixed wheel bike - I'll stick to the 27 gears my santa cruz heckler has.
My friend had the same 'barmey' idea to run a fixed wheel bike to comute to work on, he got a rather unpleasant suprise at the first set of traffic lights.
He has now gone back to single speed, mountain biking own version of owning a pre-war banjo. I on the other hand think gears were invented for a very good reason.

Sid Langley Says:
Tuesday, September 18, 2007 @4:38:58 PM
I have a rather good lightweight road bike as well - only the two chainrings, so it's 18 and 700 wheels with HP tyres - a new Trek for offroading is next (or a frailing banjo!) ... but if you haven't ridden fixed (not just single speed) you ain't lived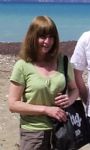 u k sandra Says:
Tuesday, September 18, 2007 @6:00:49 PM
And you`ve gone and done it just as winters coming!!!

HoosierGal Says:
Tuesday, September 18, 2007 @7:13:39 PM
You've got a lovely core Sid.. smiles or no.... :-) I think you're swell.

Joanchek Says:
Tuesday, September 18, 2007 @11:57:35 PM
Bah. Some of my best friends are MOGs.
revdmike Says:
Friday, October 5, 2007 @6:33:22 AM
Greetings from one MOG to another! ;-) Just don't get too diverted from banjo playing by bicycles!

Sid Langley Says:
Friday, October 5, 2007 @11:32:31 AM
been playing but not posting much ... harvest festivals, dance and music lessons for grandkids starting with new school term ... now the bike plus a few days (and nights) here and there of distraction from the real business of life (work) ... actually I've got my Taylor 710 ( a rare orignal shape from 1994) down from the loft and restrung it. I figure I've been going at the banjo long enough now not to be too confused by switching between the instruments, although I find the guitar strings are now busting up my right hand fingernails - thicker strings with a wound G. It's BHO, not bikes, which is the big distraction, so I'm being very careful!

Jane C Says:
Saturday, October 6, 2007 @7:14:46 PM
it's gone midnight, been up since 5.45 done my second arts and craft fair this weekend (profitably), dog tired yet still I'm drawn to this place. d'you think are we're all BHO OCD sufferers? or just lifeless saddos?
You must sign into your myHangout account before you can post comments.