Hello All Banjo Hangout Friends ,
This is Rick's wife Janet . I regret to inform you and especially those who Rick had correspondence with that my dear incredibly, amazingly ,talented, loving husband Rick, passed away on December 1st , 2022 .
Please know how much he enjoyed being and participating in this group . Along with many passions that he had , playing banjo was at the top . He was extremely talented at playing , writing and creating music along with being a furniture maker , craftsman of trade and ost of all incredibly humble .
He was active on the site daily as his morning routine and got much information and joy each day . If he were here today , I believe he would say to give all you can and enjoy banjo to it's fullest .
I will miss my soul mate of over 42 years forever . I will miss our time playing music together as I flatpick guitar and we have been doing it together for over 30 years since I learned how to play in my late 20's. For those and most probably don't know , Rick was a prolific writer of song and music which we preformed so many pf over the years . Our most recent years we played in our band called , " The Stable Hands Band ". 90 % of our music played was original all by Rick . I am so proud to have shared my life with such a kind , gentle , loving , talented , genuine and humble compassionate man .
Rick embraced life to it's fullest in every which way and form .
Thank you all for taking the time to read this and wishing you all good health in this New Year . Sincerely ,
Janet Baskowski with a broken heart (Rest in Peace my forever Love Rick ) .
---
3 comments on "Rick Baskowski's, Passing"

banjoy Says:
Wednesday, January 11, 2023 @6:07:53 AM
Janet, I did not know your husband personally and did not interact with him much here on BHO, but I do remember him. I had to look at his profile here again to remember who he is. I do remember. I am saddened to hear of his passing and wanted to thank you for sharing this news, sad as it is. Thank you for celebrating his life here. I know personal loss so very well, my heart goes out to you and your family. Godspeed.

Texasbanjo Says:
Thursday, January 12, 2023 @4:43:37 AM
My thoughts and prayers are with you. I can empathize as I lost my husband of 50 years 6 years ago. I miss our daily jams, him on the bass, me on either guitar or banjo, singing, picking.

Each person has their way of grieving and continuing on. You will find your way. Take it one day at a time. You never forget but it does get easier.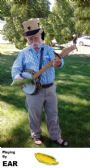 mike gregory Says:
Thursday, January 12, 2023 @5:09:11 AM
Like the Hospice Pastor told me, when Irene died (August 2006):
"You'll never completely get OVER it, and there's no way AROUND it, but there are friends and trained professionals who will help you get THROUGH it."

From time to time, I see her in my dreams.

He also told me that it's perfectly normal to suddenly feel like weeping uncontrollably.
Called it "STUG", for Sudden Temporary Upwelling of Grief.
Can be triggered by a smell, a song, a sight, a memory.
You must sign into your myHangout account before you can post comments.