Hello. just learning banjo in old age. Does anyone have tab to"There Was A Time". ?
In open/G tuning, since that's all I am capable of (barely, at this point.)
many thanks. Pam
pamela_ryder@yahoo.com
---
2 comments on "There Was A Time"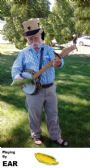 mike gregory Says:
Friday, September 16, 2022 @9:41:08 PM
Welcome to the HangOut!
I don't know Jaques Merde about writing tab ( pardon my French), but here's a guy showing how to play "There IS a Time"
youtu.be/zVmkj3F_YxU

Texasbanjo Says:
Saturday, September 17, 2022 @4:50:07 AM
There's a tab in the tab archives for There IS a time. Perhaps that's what you want? If so, go here: banjohangout.org/tab/browse.as...l&v=21685 and click on the underlined Tabledit to download the tab. You need to have the correct software and if you don't have it, go here: tabledit.com/tefview/index.shtml and download the free version. That will allow you to download, print and play any .tef tabs.

If you wish to ask for more tabs, please go to the forums and post under the Tab forum. You'll get more answers there than in the blogs.

Welcome to the Hangout. Hope we can help you in your search.
You must sign into your myHangout account before you can post comments.