Merry Christmas & Happy Holidays to my friends, family, banjo buddies & dulcimer pals,
Wow! December 15th and the end of 2021 is rushing ahead. First of all my holiday special is good from today till January 15th :)
Hope Everyone is safe and well & sorry I'm so late with my holiday special.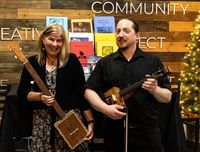 Our favorite holiday CD is "Banjo Dreamin' Suwanee Nights" which is a winter holiday instrumental recording on banjo and guitar. Still have a few hard copy CDs left and of course it is available for download on Spotify, Bandcamp, Itunes , Pandora & many other digital sources.
If you order any CDS or Tab books (Banjo or dulcimer ) between now and January 15 2022--I will include a free bonus code for the digital version of "Banjo Dreamin Suwannee Nights "
Banjo Dreamin' Suwanee Nights Tab Book for clawhammer banjo is also available on my website.
Banjo Dreamin Suwanee Nights is on Bandcamp for your listening pleasure.
https://maryzcox.bandcamp.com/album/banjo-dreamin-suwannee-nights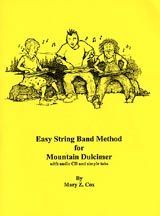 During the Pandemic many mountain dulcimer friends have kept in touch--but really don't know about my mountain dulcimer instruction book or dulcimer centric CDs
We realize that it is difficult to sort out the banjo cds from the mountain dulcimer ones--so here is what is available.
Chickens Crowin at Midnight--has mountain dulcimer on every track--but yes there is banjo, fiddle, guitar and bass sometimes chiming in too. We made this CD over 20 years ago and folks are still requesting these versions of many of the tunes. There are a few hard copy left, but once they are gone--it will only be digital. If you have wanted to collect this early album--please go ahead and order--it may not be available next Christmas.
The Adventures of Ducimer Dawg also has dulcimer on every track--but lots of other instruments and is pretty wonderful to listen to in your car or home. It has the added plus of one vocal track by our old basset hounds Elvis and Priscilla (RIP) Our new basset pup (Charley) does not yet howl--so don't know when we will have another hound dog vocal. Several folks who have bought the CD wrote to tell us that it is their dog's favorite recording :)
String Band Method for the Mountain Dulcimer book with downloadable instruction recording. These are some of my favorite string band and mountain tunes on the dulcimer and the downloadable play along recording has lots of insider tips and slow and medium play a long versions for these DAD tunes. If you don't already have this book & recording--we highly recommend it.
I'm about halfway through writing a new dulcimer book and it will have more tunings and more tunes and a few singing songs too--but it won't have all the beginner instruction like my first one. If you order String Band Method for the Mountain Dulcimer now and work through it--you will be ready for the new book :)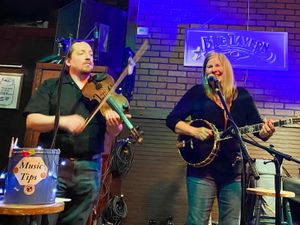 Upcoming in 2022.
Have so been wanting to record a new CD--but being mostly home bound and not having a current studio to record in made it seem like something far in the future--but I've been learning all kinds of new songs & tunes anyway & as luck would have it--Boston fiddler, Cameron Freer flew in for a weekend of very fun shows at the Blue Tavern & Northside Stage in Tallahassee& everyone was so good about recording some quality sound files live--We believe that there will be a live recording coming of banjo, fiddle, mountain dulcimer and vocals coming sometime in 2022.
If you were at either of these live shows--you know its gonna be a really fun an listenable recording. There will even be some fiddle/mountain dulcimer duets live--which is pretty rare in the folk world.
More about it after the first of the year.
There are some cell phone quality videos up on my Youtube site for a sneak peek at some of the music.
Family news. Got to report that this year has been blessed with a granddaughter, Violet--who is possibly the happiest, laughing most beautiful baby we've ever seen. We are looking forward to playing with her and holding her at Christmas. She wil be 11 months then & is already walking holding on to everything.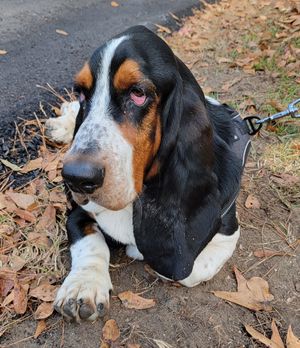 Bob & I also got a wonderful basset hound last March-Charley-- and he has kept Bob & I laughing all year. His personality is very different than Elvis. He is sweet and friendly --is always telling us exactly what he wants. He goes to bed every night at 9 pm--but likes to sleep late. He super loves dog parks and running with the big dogs. He regularly has encounters with our rhumba & has formed a military type unit with his stuffed animals--Charley in the middle & Snuggle Puppy & Hedgehog on the flanks to block the rhumba from going into any of the spaces Charley has staked out as his own.
We are looking forward to a new year in 2022--hopefully with more live music and travel & hope to see and visit with many of our friends and family as it becomes safer.
Thank you everyone for your support and please do contact me to let me know how you are doing and if you are safe and well. I do keep a public page with lots of current pix and videos on Facebook--so feel free to visit and say hello.
Love and blessings and may we all be picking and singing and laughing with our favorite banjos under a clear blue sky,
Mary Z. Cox & Bob Cox & Charley too