Posted by Gorhamite on Saturday, September 19, 2020
Just wanted to say Hey!
My biggest regret in life so far is I never learned to play an instrument for at least my own personal pleasure. I haven't croaked just yet so, here we go. I bought my first banjo this week after a fair amount of online and music store research. It is a Gold Tone CC 12" Bob Carlin open back, it's so darn pretty I'm afraid to pick it up (just kidding) but it is beautiful. Took a wonderful ride through southern Indiana to pick it up from a posting I saw here in the BH marketplace. Nice young man who builds top notch mandolins gave me a fair price and much hospitality.
Anyway, if anyone lives near the Mountain Parkway and wants to shoot the breeze, let me know. I do not yet paly, I am a beginning beginer.
Thanks,
Lester
---
3 comments on "Howdy, new here at BH from east of Lexington, Kentucky"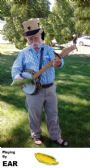 mike gregory Says:
Saturday, September 19, 2020 @4:11:16 PM
Welcome to the HangOut.
Here's a guy who can get you started with one finger chords.
He doesn't explain it, but I think he's strumming all the strings, then picking the first with his index finger, then 5th with the thumb, and first again.
Anyway, that's how I do it for beginners.

Easy banjo 1-2-3 on Youtube
youtube.com/watch?v=5Iqbkjx3zk8

dbrooks Says:
Sunday, September 20, 2020 @4:20:00 AM
Welcome to the Hangout, Lester. You'll find plenty of friendly advice and help here. I suspect you will find others from Kentucky and who may be closer to you than I am.

David
Louisville

Gorhamite Says:
Tuesday, September 22, 2020 @5:22:12 PM
Thanks Mike & David, appreciate the feedback.
You must sign into your myHangout account before you can post comments.