Hello, my dear banjo friends!
My name is Janna and I'm a banjo player from Uzbekistan, the only banjo player in the entire country. Good people from this forum presented me my Nechville Athena banjo some years ago, it was amazing and I still play it and try to learn how to play american music by myself through the internet. And from that time I'm like a banjo ambassador in my country))
Some days ago the American Embassy in Uzbekistan choose me to perform American folk music on the 4th of July Independence Day Celebration and I was very happy and created a little "bluegrass band" with my good friends here - Drummer named Ruslan and Ukulele player named Kamilla. They agreed to play with me on that day and I played many of my bluegrass songs I learned. We had some rehersals before our performance and it was a great experience for me! I told them how to play better and created arrangements and we played it together! And I also played banjo and sang in microphone!
Of course I understand that my band is not like real bluegrass bands, but it is very hard to find musicians for the real bluegrass band because noone of them knows what is bluegrass and noone plays bluegrass. Especially there are no fiddle playes, only violinists, and no bluegrass mandolin players.
My drummer Ruslan is rock drummer, we played together in my old rock band, so I know he's great and he understands what I want from him and plays how I want. Kamilla is actually a piano and keyboard player, but she has a madnolin and plays it with me, sometimes (about 1 time in few years)))

Finally the Independance Day had come. US Embassy send a car for us, and let us to rehersal on the stage before the evening starts. They was very kind, smiley and positive, so I like these people, I'm happy they was supporting me, because bluegrass isn't popular and just unknown in my country.

The sound was so bad on the stage so we couldn't hear each other... We tried to do our best, but we even didn't understaned what happened and how we played!
But then some people said it was good. Some people shot us on phones as something strange and unique


Dear friends, I found and posted some videos from our performance and I need your opinion. I know all that I did bad, I notice my mistakes, but I was a little nervous because I usually play at home for myself and perform my banjo covers for a big audience is very unusual for me))) What do you think, I'm on the right way with my banjo music here on the opposite side of the Earth or no? What I need to do next?
I planned to record my banjo covers and make better videos of the full songs.
I also want to thank my friends and my lyrics correctors (because Enlish is not my native language, I speak Russian) - Big thanks to my American lyrics correctors - @mike gregory and @JanetB for helping me in creating my own version of the lyrics for the song "The Streets Of Laredo" !
(I will record the full song and will post it for you, I hope soon!!!

And of course, for my American banjo friends, big late congratulations with the Independence Day of the USA!
You can watch my videos on my youtube channel: https://YouTube.com/Liltingtune
And in my videos here on banjohangout!
---
5 comments on "How I was perform Banjo music in Uzbekistan on the 4th Of July 2019!"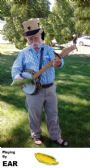 mike gregory Says:
Sunday, July 14, 2019 @6:02:02 AM
The videos seemed good to me.
And don't worry about mistakes.
You could play VERY badly, and still HONESTLY claim to be one of the VERY BEST 5-string banjo players in the entire nation of Uzbekistan!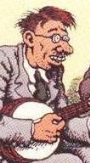 geemott Says:
Sunday, July 14, 2019 @6:40:20 AM
These are wonderful performances!

Sorry I can't give any advice. It's obvious that you are nervous, but anyone would be in a situation like that. Just keep doing it. You have the ability to play, stand, sing and smile all at the same time, which is more than many of us can do.

I remember when the BHO was first taking up the collection to get you your banjo, and I thought you were probably a scammer of some kind. But I see now that I was wrong and you are genuine, and a great banjo ambassador to Uzbekistan and the world.

Thank you for posting these videos and keeping us up to date with your career.
Janna Says:
Monday, July 15, 2019 @12:22:37 PM
Thank you so much!!! ??????

cyberflix Says:
Tuesday, July 16, 2019 @2:23:33 AM
Thank you a lot for the beautiful post.

n1wr Says:
Tuesday, July 16, 2019 @2:39:27 AM
Janna - videos are great. Good to see you back on the Hangout.
You must sign into your myHangout account before you can post comments.