Posted by RileyG on Wednesday, July 3, 2019
At a town fundraiser in Agra OK, I bought a second hand Jones 5 string (made in China) and am now wondering just where do I attach a strap (that I have yet to make) and what is the best (Free) lessons to get me started on this banjo.
Some things about me - squiggly lines and blobs on a page (music) mean nothing to me. I have not been able to figure them out since the first attempt at about age 7 and piano lessons in the late 50's, don't try to tell me just read the music - it doesn't work. I play a penny whistle. IF the tune is in my head, I can sometimes get it out my fingers.
and now I are one,
RileyG
---
3 comments on "I guess I are one now"

Texasbanjo Says:
Thursday, July 4, 2019 @4:41:59 AM
What genre of music are you interested in learning? Bluegrass, clawhammer, jazz? Whatever you decide, a good teacher will make it so much easier for you to understand those squiggly lines and blobs. If you can't find/afford a teacher, a good beginner book with a CD or DVD will help get you started. There are also teachers who teach on lie via Skype and that's almost like a one on one. If you prefer to learn to play by ear, then just listen and get the melody in your head and see if you can pick it out on the banjo.

As far as free lessons, let's put it this way: you get what you pay for. It's much better to spend a little money and get the right instructions so you won't have a bunch of bad habits to break later.

Whatever you decide, welcome to the Hangout. Feel free to ask questions on an appropriate forum. There are lots of people who will help answer any question you have. There are also a few people who enjoy making newbies feel unwanted. Ignore those and you'll get lots of help.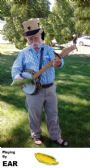 mike gregory Says:
Thursday, July 4, 2019 @4:52:00 AM
Welcome to the hangout.

Best advice I ever got was
"Kid, it's YOUR banjo. Play it any damn' way you WANT!"

This guy, on Youtube, will get you started, free.
youtu.be/5Iqbkjx3zk8
Tony Thomas: Easy banjo 1-2-3

I don't read music either.
But, people who have heard me play, have hired me to come back and play some more.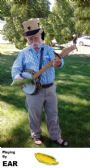 mike gregory Says:
Thursday, July 4, 2019 @4:55:02 AM
Get a belt from a thrift shop or yard sale, cut off the buckle, and use shoe laces to tie it to the bracket hooks.

Imagine the banjo as a clock, with the neck at 12.
Tie the laces at about 1 and 7.
You must sign into your myHangout account before you can post comments.