I was in a jam tonight that my instructor invited me to. Everyone, and I mean everyone, was an accomplished multi-instrument musician. Other than me.
The atmosphere was so positive and non-judgemental. Nobody seemed to care that I'm barely a musician at all. It was just good times all around. This isn't the first time I've seen this, and I know it won't be the last. It's not what I expected when I first got into music. I don't know why, but I expected more elitism, more ego, less acceptance of beginners. What I've found today, and every day since I started learning music, is the opposite. Every musician I've met seems eager to give the new guy a hand, to offer an encouraging word, to play with them at whatever level they can play at.
I am amazed by this culture of acceptance. Music is difficult, and takes a lot of work, and it would be easy to let that feed one's ego, once any skill was acquired. But in the music circles I've been exposed to, great playing is not the most well-regarded skill of a musician. Humanity, humility, treating others well, caring about others, those are the most important skills of a musician in my circles.
I'm humbled to play in such circles as that.
---
6 comments on "Humanity as a musician's greatest skill"

Deleteme Says:
Sunday, May 5, 2019 @6:22:56 AM
Thanks for sharing.

USAF PJ Says:
Monday, May 6, 2019 @11:05:27 AM
Glad for this experience for you! Hopeful that it is user friendly like this for all who attempt to play w/ others.

WayneConrad Says:
Monday, May 6, 2019 @11:36:14 AM
USAF PJ - These musicians have set an example I hope to live up to. I want some aspiring musician to someday feel the same kindness from me as I've felt from others.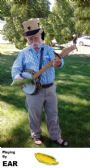 mike gregory Says:
Monday, May 6, 2019 @11:59:22 AM
Good to know that there are still good people Out There.

As someone wiser than I once posted
"The best musician is not the one who makes the best notes, but the one which moves the most hearts."
And, lucky me! I am such a basic four-chord folkie hacker, that I am not able to even pretend to be an exclusionary elitist.

pickn5 Says:
Thursday, May 9, 2019 @6:31:30 AM
Wayne, very nice story.

Judith511 Says:
Sunday, May 26, 2019 @7:44:03 AM
That is lovely WayneConrad I hope at some point to be able to play with others. Music really is for the enjoyment of all.
You must sign into your myHangout account before you can post comments.