Today I've been practicing for a gig I have in... holy cow, only a week. I've known about it for months, but only in the last week have I gotten serious about practicing for it. I'm a terrible procrastinator, and have been since grade school. Probably since forever. For about a month I've been in a serious banjo funk and not wanting to practice at all, but I came out of it a few days ago. Good thing!
I had a loose collection of lead sheets and sheet music for the sets, but not for every tune, and not in any kind of order. This morning I spent time putting them into a three-ring binder, and creating lead sheets so that every tune is in the book. I know most of the tunes pretty well, and usually don't perform with lead sheets, but this time I will, because:
I'm not super familiar with a few of the tunes.
This is not a front-and-center performance, but more background music.
I am playing with my instructor, and I'm anxious not to make him look bad.
It's a paying gig.
I was intimidated when he asked me to play a real gig with him, because he's just about infinitely better than I am. I almost said no, but decided to do it. I have to keep reminding myself that if he thinks I'm up to it, I must be up to it. I am learning a lot of new skills in getting ready for this gig. Just like I learned a lot playing the folk festivals with Nancy. I can't say enough good things about performing solo, and jamming with others, and playing in a band. Involving other people in my music in any way lights a fire under me and accelerates my learning greatly. I've heard others say the same, so it's not just me.
---
One song from the gig that I've been having a blast with is Ring of Fire. I didn't like that song, but then I stumbled across a guitar lesson that showed how to incorporate the horn section into the playing and it got interesting. Now it's kind of fun to play, not so boring. It seems odd to use a guitar lesson to learn to play something on the banjo, but I don't pay any attention to the technical parts of the lesson like what finger to put where or how to make chord or how to pick. I just use the lesson to learn what chords to make when, and what melody notes to play, and to get ideas for licks. I can figure out where to put my fingers to make the chords or melody, which feels good. A lot of my practice still seems very difficult, so when something finally does come easily, it's really nice.
Another gig song that I'm having fun with is Sunshine of Your Love. I can do a fair imitation of the base lick, and I started trying to improvise a solo. Even though the song is in D major, it was obvious that using the major scale wasn't working for the solo, so I tried the natural minor scale. It was almost right, but not quite. Then I tried the pentatonic minor scale, and that sounded better. The blues minor scale sounds good, too. Something to ask my instructor about. I'm in no way ready to solo on this song, but it's fun to try to figure out how.
---

Deleteme Says:
Saturday, January 12, 2019 @5:35:56 PM
Wow, interesting and exciting. Good luck.

Judith511 Says:
Saturday, January 12, 2019 @7:09:57 PM
Thats exciting Wayne! I am not sure that I could ever play in front of an audience. I have played in front of a few relatives but that is about it. I am sure that if your instructor thinks you are ready you are. Have fun and good luck with it :)

WayneConrad Says:
Sunday, January 13, 2019 @2:54:39 AM
Judith511 - Everything I do now is something I wasn't sure I could do before. Or, actually, something I was once sure that I could never do. But little steps add up to bigger steps, and bigger steps to strides, and then I was playing badly in front of people, and then less badly, and then OK, and then better. One little step at a time. If you want to play in front of others (and I recommend you do strive for that), just keep taking the steps you are taking, and you'll get there. Thanks for your good wishes.


pickn5 Says:
Tuesday, January 15, 2019 @5:23:06 AM
Wayne, I'm excited for you. Good luck with the gig. I've only played for family and some posts here on BHO. I really have to get out and pick. This summer, I'll try picking in town. Keep picking.

WayneConrad Says:
Tuesday, January 15, 2019 @6:07:41 AM
@pickn5 You're ready for it. You'll do well!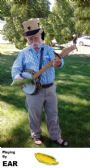 mike gregory Says:
Tuesday, January 15, 2019 @6:09:34 AM
So, do you HAVE horns for "RING of FIRE", or are you going to use kazoos?

WayneConrad Says:
Tuesday, January 15, 2019 @6:14:56 AM
Mike, Haha! That's a splendid idea! I'll have to do that at open mic.

pickn5 Says:
Tuesday, January 15, 2019 @6:36:06 AM
WayneConrad, thanks for the kind words.
You must sign into your myHangout account before you can post comments.