well I have been working on Foggy Mountain Breakdown with the Rob Bourassa videos. I was playing some other tunes the other night and tried Old Joe Clark again...I can do it faster! Yeah me! I think my practice is paying off. :)
Found this group the the other day. They are called The Dead South. https://youtu.be/B9FzVhw8_bY. I think this is really catchy. I am listening to so much music that I have missed over the years. They are going to be near me in the fall. Might go see them.
---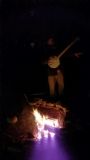 Astrobanjo Says:
Wednesday, June 13, 2018 @3:46:35 PM
have you checked out any Jim Pankey vids?....They helped me a ton!....

Judith511 Says:
Wednesday, June 13, 2018 @7:17:10 PM
Not yet Astrobanjo I will try and watch some this summer when I have more time. :)

pickn5 Says:
Thursday, June 14, 2018 @6:13:03 AM
Its a great feeling when you notice the progress. Keep picking.

AndyW Says:
Thursday, June 14, 2018 @8:59:53 AM
Progress is slow, and often difficult to spot because of this. It's nice to notice a 'step change' occassionally.
You must sign into your myHangout account before you can post comments.