August 26, 2007
It's been five weeks since my treatments ended. I am feeling much better. Much of the nauesa has gone away and I am slowly regaining my strength. I am back to work full time.
The treatments were really rough. I lost over 60 pounds during the course of the treatments. My Doctors were wanting to put in a feeding tube, but I resisted. I hit a low of 189 pounds. That was the weight I was when I graduated high school in 1971. I felt I could handle the weight loss. I have regained about 11 pounds. I weighed in this morning at 200 pounds.
I have been eating pretty much anything I want, with some caveats. I need to take small bites and eat slowly. Seems like I remember my Mother saying something like that when I was growing up!!! Some cuts of beef are still difficult, but I have been eating hamburgers for the past couple of weeks and do they taste good! My GI Doctor has me on some medications to help with the healing process.
Testing has started. This past Friday I had my ump-teenth endoscopy. I've had so many I've lost count. The Doctor took several biopsies. According to him the tumor is gone and everything looks good down there. Next week I have a nuclear PET scan. The following week I have a nuclear Bone scan and a CT scan. Then it's back to Tampa to the Moffitt Cancer Center for the last test, an Endoscopic Ultrasound.
We have treated the cancer, I believe we have beat the cancer and it's time to give God the Glory. Faith, Good Friends, a loving Family and a positive attitude have gotten me through these past five months. I just have to wait for the rest of the tests and the results.
I want to once again thank each of you that has sent me an e-mail, comment on my blog, putting me on your prayer list, a word of encouragement or just taking a moment to say a prayer for me. It really did help.
Warmest regards,
Bill
---

Mr. Quimby Says:
Sunday, August 26, 2007 @7:08:44 PM
I am so glad to hear that things are going well. I've thought about you a lot the last few months and hoped that things would work out okay.
I certainly will continue to keep you in my thoughs and prayers.
All the best,

gottasmilealot Says:
Sunday, August 26, 2007 @7:59:26 PM
Great news Bill. Hang in there, it looks like the worst is over. ....Thank goodness!

Joanchek Says:
Sunday, August 26, 2007 @8:35:52 PM
Bill, I needed good news today and I was so glad to have yours! Best wishes continue your way for a complete recovery. You've earned it, sir!

Nancy Says:
Monday, August 27, 2007 @6:57:02 AM
Bill, I am really happy to hear you are better. You are one of the special people! I have you in my thoughts and prayers for a complete healing. Just keep on getting better each day.
Nancy

TMarshall1 Says:
Monday, August 27, 2007 @10:44:58 AM
Bill, What wonderful news. I hope that subsequent tests and visits continue to give you even better news! Here's to a speedy recovery, my friend!
T
Soop Says:
Monday, August 27, 2007 @10:54:22 AM
This is fantastic, Bill. Thanks for sharing your success.

Lenwardg Says:
Monday, August 27, 2007 @1:38:40 PM
Great news Bill!!! I'm so glad to hear of your progress and success and continue to wish you the very best. Hope you get to devour a 16 oz. ribeye with all the trimmings real soon!

garfield55 Says:
Monday, August 27, 2007 @4:36:11 PM
I'm glad to see that you are well into the bounce-back/recovery phase. May you health continue to improve. I'd like to see you in the park soon playing bluegrass music again.
Ted

farmy4700 Says:
Monday, August 27, 2007 @6:06:37 PM
Good to hear! thats awesome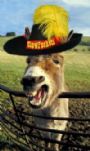 SlowPockets Says:
Tuesday, August 28, 2007 @7:42:11 PM
Wonderful news Mims, it sounds like things are really coming along for you and you seem to be in great spirits. I hope you continue to have success. Just remember this if you can make it through a Florida summer you can make it through anything :0)

jamesl Says:
Tuesday, August 28, 2007 @7:46:00 PM
Great news Bill,Keep us updated i'm sure all the other tests will turn out well,all the best to ya mate.
Cheers Jim

the-fish Says:
Tuesday, August 28, 2007 @10:00:53 PM
Bill-I'll certainly pray your recovery continues in the right direction..BEST Rick

brokenstrings Says:
Wednesday, August 29, 2007 @11:30:35 PM
Mims, Good to hear.
You must sign into your myHangout account before you can post comments.