Okay, so I am upgrading my Washburn B-14(not hard to do).
I started with a Deering Goodtime II as my probable next banjo, but I quickly ramped up to about $1,000 in price to find something decent, and that has opened the market up considerably. Now I'm staying under 2k, and wanted to keep notes on my shopping experience.
At the Folk Store, I played a Deering Sierra and a Gold Tone (don't remember the model, but it was $1500). They also had a custom Deering Calico with a slightly wider neck, which was kinda cool.
I preferred the sound of the Sierra to the other two I played, and I preferred the playability too --I REALLY like the satin finish, just feels smoother for my left hand --faster. The sound also seemed fuller and more even than the other two banjos. In general, I like a good twang without a loss of tone, and the new Sierra with the upgraded tone ring seemed best for that.
I am not interested in the frills of a fancier model. Of course I want my banjo to look good, but I'd rather it sound good than look good any day, and again the Sierra won that argument decisively.
Other banjers I'm looking at: the OB250 and the Recording King. Nearest RK dealer to me is 45 minutes away, but I'll get there. Where the heck do I look at an OB250 around here? I don't recall seeing one at Dusty strings when I was there...
---
2 comments on "Banjo shoppin --under $2,000"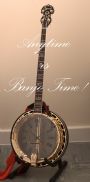 ragitty Says:
Saturday, August 25, 2007 @5:56:20 PM
Hi the Deering Sierra is an awesome banjo, forget the rest, as you have already stated, nothing fancy about it but wow does it play beautifully.

chuckles50 Says:
Sunday, August 26, 2007 @11:17:27 AM
I agree with the previous comment, having played a Sierra for 2 years. But there's nothing wrong with shopping around a bit, if just to confirm your original instincts about the Sierra.
You must sign into your myHangout account before you can post comments.