Posted by skoobee on Monday, December 4, 2017
As per standard 'Murphys Law' shortly after my last blog about how marvelous my Tennis Elbow was going, the cricket season began. Lo and behold, as if by magic, the same tendon on the other elbow went 2nd game of the season!
So not only did I lose my ability to play any banjo again, I had to stop playing cricket. Fretboard wing this time so no getting away with altered technique and such. Just had to stop.
The good news is, my marvelous consultant surgeon agreed to continue treatment without going through the entire 'referral' rigamarole, for my new elbow injury so I had that PRP'd a few weeks back. The injury is a lot less severe again, but still niggly and there, but I'm reasonably optimistic this treatment will be shorter.
For those of you interested, I did manage to play a few more games of cricket.. then promptly damaged ankle ligaments... this was supposed to be a 'safe' sport... help you stay fit and healthy they said... *sigh*
Back on my Banjer in the new year, so I'm told... fingers crossed, eh?
---
3 comments on "If it weren't for bad luck..."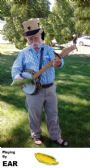 mike gregory Says:
Monday, December 4, 2017 @7:04:43 AM
Until the various bits are healed, you might want to keep your musical urges satisfied by tooting a kazoo or harmonica.

Best wishes for a speedy recovery.

Boadicea Says:
Tuesday, December 5, 2017 @1:29:05 AM
The harmonica sounds like a good idea!

Get well soon!

skoobee Says:
Tuesday, December 5, 2017 @2:06:37 AM
mike gregory Boadicea whilst not the worst suggestion I've heard, you know how it is... it's like a compulsion the Banjo... and addiction... I gots to get my 'fix', and I'm not sure any other instrument is gonna cut it! Just a few more weeks until I can start playing again and until then I'll just have to content myself with listening and watching.
You must sign into your myHangout account before you can post comments.