Fingerstyle Banjo Core Repertoire Series - "Bluegrass Banjo Classics" Edition
EPISODE 6: "Cripple Creek"

by Josh Turknett, fingerstylebanjo.com
---
---
Well of course we're gonna do Cripple Creek!
While in popular culture most probably consider "Dueling Banjos" to be the banjo player's rite of passage, those of us in the banjo world know that's far from the truth. It's Cripple Creek!
Many would consider Earl Scruggs's iconic version to be the definitive banjo rendition of Cripple Creek, yet it's not an arrangement that's especially well suited for beginner's fingers. Far from it!
So, in this episode of the Core Repertoire Series, we'll once again build this tune from the ground up, and in so doing provide some ways of playing this classic even if your fingers aren't quite up to Scruggsian levels of proficiency.
---
RELATED: Still fairly new to banjo? Click here to learn more about Breakthrough Banjo, a step-by-step course for banjo designed for the adult learner.
---

STEP 1: Know Thy Melody

While it's not commonly sung, Cripple Creek is technically a song - meaning, it does have words!
And, any time we can attach words to a melody, that's a bonus, cause that means we get to recruit some powerful parts of our brain to help out in the remembering part.
I imagine many of you already, know this melody, but here I am singing it. Make sure you've got it firmly rooted in your mind before proceeding to step 2.
Singing Cripple Creek:


STEP 2: Find the Melody Notes

To start, make sure you're in standard G, or gDGBD, tuning. Once there, we'll see about finding some melody notes.

First try finding them for yourself, and then check your answers below.

Here's what the bare melody sounds like on the banjo:
And here's what that looks like in tab:
STEP 3: Decorate Thy Melody

Now let's take that skeleton of a melody and fill in the spaces between the melody notes, including a healthy dose of the 5th string, and some fretting hand techniques like slides, pull offs, and hammer ons to add a little interest.

Here's one way we might do so:
Cripple Creek
gDGBD tuning, Brainjo level 2
And here's what that sounds like:
STEP 4: Embellish further as desired

At this point, we can keep our initial version, or spice it up even more.
As I mentioned, Earl's version of this tune is pretty iconic, so the arrangement here is pretty faithful to his take on it.

Here's that version:
Cripple Creek
gDGBD tuning, Brainjo level 3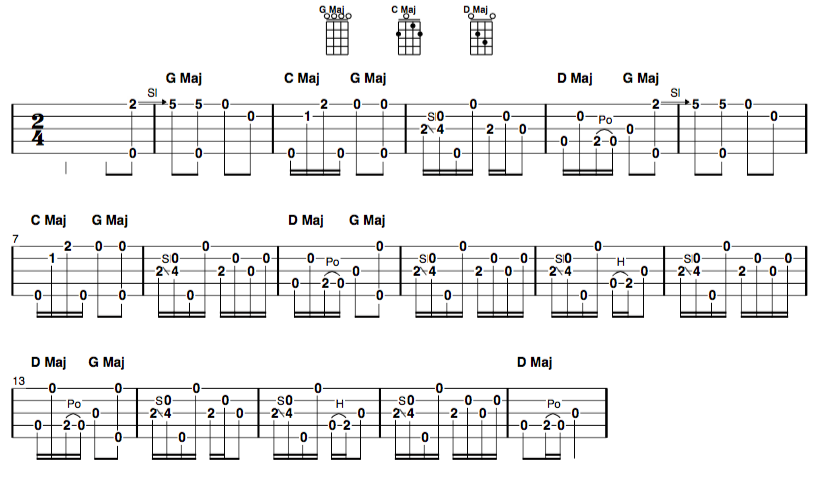 And here's what that sounds like:
But just because Earl played it one way doesn't mean you shouldn't come up with your own way of picking it! The world certainly has more than its fair share of Earl clones.
In fact, the whole point of this Core Repertoire is to help you understand how to play a song your way. So don't be afraid to do just that.

STEP 5: Jam On!

Once you feel like you've got this one down, give it a try playing with the jam track below.

It's the perfect way to prepare for your next jam!

[RELATED: Click here for more on how to use these jam tracks.]

SLOW BACKUP
REGULAR BACKUP
---
GET THE COMPLETE SET OF CLASSICS
If you enjoyed these tutorials and backup tracks, then you'll probably enjoy the complete set of "Essential Bluegrass Banjo Classics," which will include all tabs, video tutorial demonstrations, and backup tracks as seen here, will be available soon. Click here to have it sent to you as soon it's available.
---
1 comment on "Bluegrass Banjo Classics, Episode 6: "Cripple Creek""

Dennis7 Says:
Saturday, November 4, 2017 @1:15:00 PM
Excellent , well done look forward to more. Thanks Dennis
You must sign into your myHangout account before you can post comments.