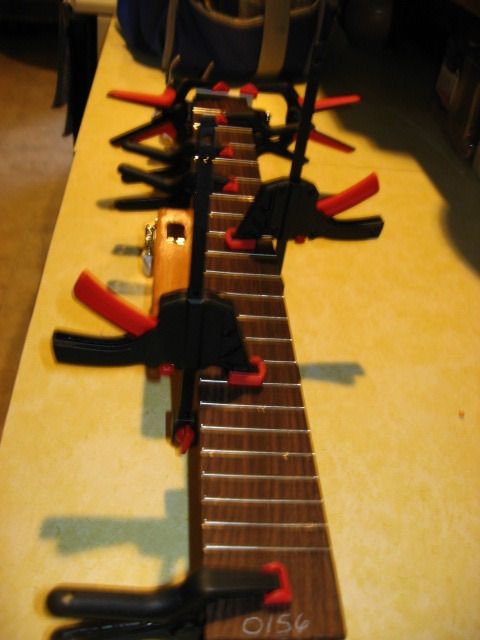 About six years ago, my wife's illness escalated as did my son's. Financially we collapsed and in that collapse I sold all my banjos. My longneck I hocked and never was able to recover it to my intense regret. A year or so ago, Mike Gregory (God bless him), took pity on me and introduced me to one of his Squared Eel kits and I began to put it together. The pop bottle banjo head worked amazingly well. I put nice decorative brass tacks around the box and glued it. The hair dryer tightened everything up and voila. The attachment of the neck did not go so well. After it was done I discovered the neck had been glued too low. I tried using oak veneer to build up the neck, but it didn't work so well.

I first tried to put it together as a fretless banjo and I never could get it to sound right. So I started studying how to do frets and discovered that my measurements tended to wander and make the instrument difficult to play up the neck. I began collecting banjo parts to go with the basic elements of Mike's kit. Between my Sweet Baboo's struggles with her disability and a profound reluctance on the part of many of my commercial freelance writing clients to pay up, it's taken me a while.

Then I discovered Stewart MacDonald. God bless em'. First, for under $20 they sold me a five string banjo fretboard which I promptly glued on to the neck. I discovered that the way I placed the fretboard left the bridge placement not on the head but on the edge of the pot. Then I got a carveable banjo nut, a bridge and even found a cheap tailpiece I could screw in place. An obscure little string company had extra long nylon banjo strings and I was in business. Stew-Mac sold me 3 two foot lengths of fret wire.
My next problem was that the neck was too long. I had to carefully remove the fretboard as, rather than chop off the neck, I decided to go longneck. To give a better angle on the headstock, I cut the neck at an angle and ran a long screw through the base of the headstock and straight into the end of the neck. The raked headstock made it much easier and gives the neck a kind of cool look that I like (and it stopped breaking strings that way for some reason. You can see how the headstock is slanted backward in the photo below (as well as my two tone longneck. fretboard.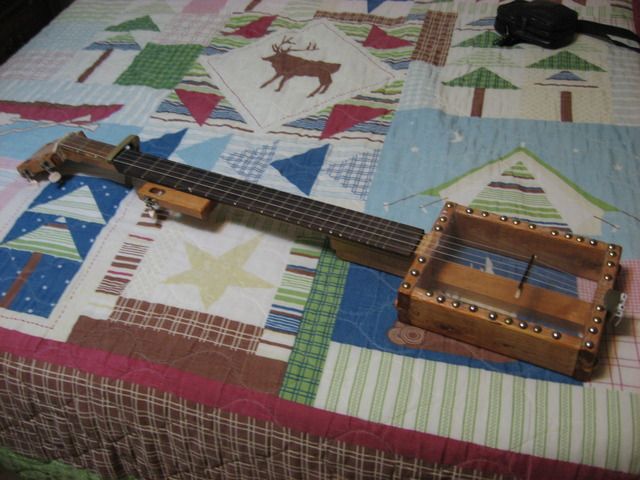 I slid the standard five string fretboard all the way down to butt up against the square pot and took a pair of (purists close your ears) pine shims I had in my tool box, glued them together with hide glue and then shaved it all down to the same thickness as the rosewood fretboard. Then, I glued it to the neck.adding enough pine fretboard above my fancy Stew-Mac fretboard to add the three extra frets to make it a longneck.. I used an online fret calculator, and made a printout of a 32" bridge to nut fret layout. It worked out great. With it I positioned the bridge and all the frets perfectly and I got good tone all the way up the neck - better than some commercial guitars I've owned. I cut the frets for the pine part of the fretboard with a $2.38 Walmart coping saw and the frets popped in just fine - tapped in place with a clawhammer (appropriately enough). I rounded the ends of the fretwire with my Dremel Moto-Tool.

I just put the strings on tonight and tuned her up. I can kind of hear how she's going to sound and I like the funky tone of this thing. It's not a pre-war Gibson, but she's mine. I even was able to space the strings a little wider which makes it easier to play for my funky big awkward hands. I'll have to let the strings stretch for 24 hours before she'll hold a tune long enough to finish a song, so she's sitting in the corner next to my 29 dollar Goya Classical that I bought on Ebay and replace the bride that some Willy Nelson wannabe ripped off by putting steel strings on it. I fixed her up too and she's got such a sweet sound. The Guitar was made in Sweden the last year they were made there before Martin bought them out and moved the operation to Korea.

So now I have a banjo and guitar again. My next project is going to be a church warden box dulcimer I think. Lost my dulcimer in our move from Texas to Washington too. Mike Gregory has got me hooked on making homemade instruments. I love you Mike. Your kindness to me is greatly appreciated more than you know. For those of your musical sado-masochists, here's the video of me after six years without a banjo and a fair to middlin' case of the galloping arthritis. You have been warned.

Life is so much kinder when you can sit out on the porch and play your banjo. I highly recommend it as an effective blood pressure medication.

© 2016 by Tom King
---
4 comments on "Squaring the Eel - Adventures in Banjo-Making"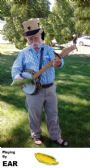 mike gregory Says:
Saturday, June 11, 2016 @5:35:03 AM
Gee, I'm glad to be part of whatever nudges you toward happiness.
I'm even happier to see that you did not become a robotic slave to my basic plans, but modified it whenever you wanted to or had to.

twayneking Says:
Saturday, June 11, 2016 @7:27:23 PM
It was a long process, but I had a lovely time with it.


twayneking Says:
Monday, June 13, 2016 @2:01:39 AM
There's a link in the article now to a video of me playing my new homemade Squared Eel longneck banjo (badly). The frets are at least properly spaced so that the chords stay in tune going up the neck.
PaulRF Says:
Tuesday, June 28, 2016 @3:48:36 AM
Looks real good to me Tom, enjoyed the video as well.
You must sign into your myHangout account before you can post comments.