By: Michael York
Its morning in Brooklyn--and Bennett Sullivan's star is on the rise.
In just over two weeks, Bennett and his banjos have appeared on The Tonight Show, not once, but twice. First- backing Elle King with her fresh Americana sound, and now with his regular Broadway band mates and several of the cast and creators of BRIGHT STAR.
From re-inventing new ways for banjo players to learn/play better, to national TV appearances, to coast-to-coast shows, it's been a busy time for Bennett all in preparation for landing back in his New York City home, readying for his Broadway debut.
Our first meeting was a few years ago at Nolita House near SOHO, where my daughter and I had gone for the Bluegrass Brunch on a Sunday morning. In talking with Bennett and some of the guys from Fresh-Baked Bluegrass during a break, I found out Bennett was originally from North Carolina, and when I shared that Charlotte was home now for me, we begin talking all things Carolina and next thing I know I'm playing Bennett's banjo in an impromptu session right there in New York City.
Then, just a few months ago, on another NYC visit I meet up with Bennett in a coffee shop near his home in Brooklyn. It's been a busy time for him since that day when Bennett told me about getting "the call" from Steve Martin.
"A couple of Septembers ago, I'm at a friend's wedding… I got a call that showed up as 'unknown' and when I listened back to the message—it was STEVE MARTIN!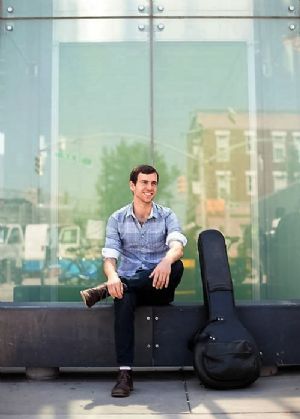 I played the message for my wife and we both freaked out. It's Steve Martin!
I had played with Noam Pickelny. And Noam (winner of the first Steve Martin award for Excellence in Banjo) recommended me to Steve as someone who could play 3-finger-style as well as Clawhammer style. It's crazy how things happen like that…"
We talk about banjo friends and acquaintances who are connected to Steve Martin in one way or another, from Jens Kruger to Sammy Shelor to Mark Johnson, to me finally getting around to THE SHOW—Bright Star!
"We've been through several variations of the show. From the early workshops in New York, out to the world-premier in San Diego at the Old Globe Theater—and after that a bit of a break and then on to DC for a pre-Broadway stint (Kennedy Center), which meant that shortly after that we're going to Broadway.
It's still amazing to me to be doing this gig. Getting off the train, walking to the Theater with all these people waiting outside--it's just surreal…The first time we all get together to put the music together with the cast there's this 'Who's Who' of all these amazing individuals--Paul Simon, Peter Asher, Edie Brickell, meeting all these incredible people and hearing the songs for the first time…it was crazy."
The reviews are very complimentary of the overall show, but they all LOVE THE MUSIC and how it moves the musical along. The NY Times calls it "A Bluegrass Musical—Americana with a touch of Rock!" Not surprising, Bennett agrees,
"The music is certainly one of the defining factors of this show. It's really different than anything else out there right now."
I tell Bennett of my impressions when I first heard Carmen Cusack sing "Sun is Gonna' Shine Again." I couldn't get that tune out of my head for the next several days. It took me back to a time in my life sitting in a small dinner playhouse decades ago hearing "Surrey with the Fringe on top" and the whole Oklahoma experience.
Of course I can't resist asking about his newest banjo friend and the show's visionary creator Steve Martin. What's it like working with comedian, actor, movie star, Grammy-winner and all-around legendary performer STEVE MARTIN?
"Steve is great. He's so creative. He's an amazing player and all those things you just talked about-- actor, performer, music, and all of the other things he's done. Just amazing to be in this place working with him..."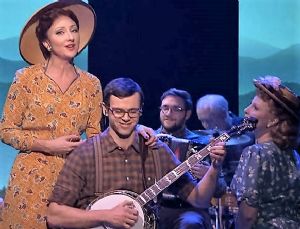 Bennett's come a long way in a short time since moving to the big city to pursue a degree in Jazz…GUITAR!
"Yeah, I moved to New York City to play Jazz guitar. I was going to The New School for Jazz in Manhattan, and I was doing alright, doing OK in school, paying a ton of money to get my Jazz Degree, and I was working a couple jobs, no time to practice, and I realized 'Hey, this doesn't make sense.' So I dropped out of school and started to get more into the Bluegrass scene here and began playing banjo more…I'd been practicing banjo while I was studying Jazz guitar, and even though I was trying to focus on guitar as much as I could, eventually I realized that just didn't feel right. I met this guy playing mandolin outside his apartment on the street, we connected and I started playing banjo more and one thing led to another and here we are."
From those days forward Bennett made the banjo his instrument of choice and moved into the jams and shows at venues like Mona's and Rockwood Music Hall as well as teaching banjo and still finding time to release his own EP project called 'Lady Nora.'
While his day job is now all about nights on Broadway, Bennett remains committed to helping others pursue their passion for the banjo. His YouTube channel is packed with his easy style of instruction including his latest "Melodification" series.
And now, Bennett is working on a giant leap forward in banjo instruction called Tune Fox.
"I'm super excited about this new banjo app that we're launching this summer. It's a combination of our other apps (Pocket Lick and Listen & Learn), and it's a whole new way for anyone to advance their own personal playing when it comes to the banjo. It really is a new experience in learning to play banjo by ear—and learning the nuts and bolts of improvisation. It's incredible and can be customized to each individual user. It has a variety of features that makes it a creative, interactive way of learning, really like nothing that's been done before..."
It's a new day in so many ways for this rising star in the banjo world. And just before I let him go I couldn't resist asking Bennett one more question that would be on the minds of so many of banjo players everywhere…WHAT KIND OF BANJO ARE YOU PLAYING ON BROADWAY?
"It's actually TWO banjos—A Deering Saratoga Star and Vega long neck. And I play both Clawhammer and Scruggs style on BOTH banjos."
Personally, I'm looking forward to getting back to The Big Apple very soon to see Broadway's BRIGHT STAR—the play, of course, and THE PLAYER—Bennett Sullivan.
---
4 comments on "Bennett Sullivan: Banjo's Bright Star on Broadway (and Beyond)"

Banjov1 Says:
Tuesday, March 22, 2016 @9:36:19 AM
I've been very impressed with Bennet's youtube clips that I've seen. I was thinking about working on one of his renditions and sending him some money... this blog pretty much seals the deal. Great to hear about Bright Star.

thanks for posting

miket Says:
Tuesday, March 22, 2016 @1:17:19 PM
I highly recommend that people check out Bennett's YouTube channel and join his member site. The melodification videos are fantastic and just what I've been looking for to expand my playing. I was lucky enough to get a lesson with him while he was in DC for Bright Star and he was just as great a teacher in person.

ecw Says:
Tuesday, March 22, 2016 @5:09:33 PM
Thanks for the interview with Bennett. He is a great player and teacher. I've had the opportunity to study with Bennett via Skype and it has definitely helped me in my efforts to get to a next level. After working with him via Skype lessons, I find myself transcribing tunes like Armando Zuppa's Corrected Coffee without any assistance from Bennett ! That's a teacher.

myork1 Says:
Friday, April 1, 2016 @5:04:32 AM
Thanks for the comments Tony, Mike and EC. Bennett is a GREAT INVESTMENT for anyone wanting to enjoy BANJO MORE! Whether it's his teaching/lessons, his apps, or just watching his MELODIFICATION series or his YOU TUBE stuff. He is a class act who I'm sure we'll be hearing more from in the coming years. Had great feedback on this column and was happy to have the opportunity to do it. Glad you enjoyed it.

You must sign into your myHangout account before you can post comments.