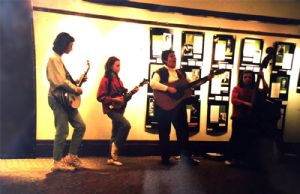 Gina, Malia, Murphy Henry and Christina
playing at the Handley Library
Hey, hey, hey and yowzer! Murphy Method student Gina Furtado Clowes has joined Chris Jones and the Night Drivers as the banjo player! She steps into the big shoes of Ned Luberecki, known as Nedski to both friends and foes (not that he has any!), who left the group on completely amicable terms to play with Becky Buller. OMG! I am so excited for Gina. She now goes by her married name Gina Clowes (rhymes with "hose") and I only include her birth name, Furtado, because so many folks still remember her by that name.
Gina and her younger sibs—sisters Malia (mandolin) and Christina (bass) and brother Joe (fiddle)--arrived at Brill's Barber Shop in Winchester around the turn of the century looking like Tom Joad's kids from The Grapes of Wrath dressed in flip flops and shorts. They had grown weary of their Suzuki violin and cello lessons and their parents wanted to keep them in music so when someone told them about me they were whisked off to Winchester to begin the Murphy Method Study Of Bluegrass By Ear. Thus, I became friends with the Furtado Family. (I eventually taught Teresa and Lulu, too, but cannot claim one bit of credit for the amazing clawhammer playing of Victor.)
Malia and Gina Furtado playing somewhere,
with Joe is in the background.
Red and I attended Gina's wedding to Paul Clowes in 2007 where bluegrass was in full force at the reception! I hadn't seen Gina in a while and she had taken some lessons from the great Mike Munford who had turned her on to the idea of listening to other instruments (like mandolin and fiddle) to garner tunes and licks. She was playing lots of Monroe tunes, like "Jerusalem Ridge" and "Old Dangerfield," fast as lightning! I was blown away! And so proud! Paul and Gina now live down the road from us and lately I have been on a mission to entice our grandson Dalton to make friends with their kids Jonah, Max, and Iris. We had some luck over Labor Day, playing in the sprinkler and shooting with water blasters! Just one big happy, extended bluegrass family!
I first wrote about Gina in Banjo Newsletter, September 2001. But the following story bears repeating. (Yes, again, Gina!) Gina, 13, and her aforementioned sibs were attending Bluegrass Week at Augusta Heritage in Elkins, WV. Gina is so animated and chatty now that it's hard to believe that back then I could hardly get her to utter one word at the lessons, much less smile or sing. I was afraid the campers and teachers would not realize how talented these kids were. So, I arranged for them to play a tune during the camp's after-lunch "Roundup." Wanting the Furtados to really shine, I suggested to Gina that they play the extremely difficult Don Reno tune "Dixie Breakdown." (Malia by then had way out-distanced me on mandolin and had learned a killer break from my son Chris Henry.) I was pretty sure Gina and I were on the same page about "Dixie Breakdown," since she liked the tune, and what banjo player doesn't like to show off?
So I'm on stage introducing the band. I tell the audience that Malia had suggested that a good name for the band would be the "Won't Smile, Won't Sing Band." (They all had this deliciously warped since of humor…which was about to bite me in the butt!) They come on stage and give me remptions of praise for their proficiency at playing bluegrass. I'm sitting on the front row basking and glowing and thinking, "I am good." And you know what the Good Book says about pride….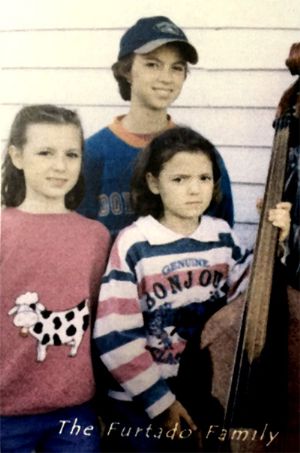 From one of the Puny Pickers albums:
Malia, Gina, Christina.
So they start their song. What? "Boil Them Cabbage Down?" That was not the plan! What happened to "Dixie Breakdown?" Did they lose their nerve? Did they not understand the importance of playing their hardest and bestest tune? I am agog at the wrongness of it. Furthermore, they are woefully out of tune! Did they not tune before going on stage? Are the lights affecting their tuning? Arrrrggghhh! This is a nightmare! With all these thoughts roiling around in my head I almost missed Gina stepping up to the mike to speak. She looks right at me and says, "Just kidding!" And then they tune up and launch into a blistering version of "Dixie Breakdown" that had the audience dropping their jaws and then applauding madly. I've never looked at Gina or any of the Furtados in the same way since!
Now for the feminist part. Giving you warning so you can quit reading here if you like.
It's hard to believe that it had been TWENTY YEARS since a banjo-picking woman has ascended to such illustrious heights. Banjo-picking men move in and out of top-tier bands all the time but even in the 21st century it's still not easy for women.
In my book Pretty Good for a Girl: Women in Bluegrass I wrote this about Kristin Scott Benson, who now plays banjo with the Grascals and has won four IBMA Banjo Player of the Year Awards. (I'm paraphrasing slightly):
"September 1, 1995 was a milestone for women in bluegrass. This was the first time a female banjo player who was unconnected in any way with the players in an otherwise all-male band had joined a well-established, nationally known bluegrass band as a side musician."
Kristin was joining the Larry Stephenson Band. I also said, "A glass ceiling had been shattered. The question was, would other bands follow Larry's lead." Apparently not. Before she landed this gig with Chris Jones, Gina was turned down for even an audition by one of the top touring, award-winning all-male bands. (She's lucky I can't find the outraged email she sent me.)
Kristin herself realized where the real barrier was:
"I don't think people should applaud me for playing in a male band, they should applaud Larry and the band for hiring me. That's where the barrier is."
And the barrier is still there. Not as much at the regional level, thank goodness, but in the upper echelons? You bet! So, kudos to Chris Jones and the Night Drivers—a well-established, internationally known, award-winning band—for hiring Gina! We are looking forward to seeing and hearing her perform with the group. Her first gig will be on February 19 at the Station Inn. And Gina's sister Malia now plays fiddle (and sings!) with the regional band Circa Blue. Check out their webpage.
Gina will be teaching at our upcoming Intermediate Banjo Camp March 18-20. Chris Jones and the Night Drivers, with Gina on banjo, will be performing at the camp on Saturday, March 19. Circa Blue, with Malia on mandolin, will also perform at the camp, Friday night, March 18. I am looking forward to both the camp and these concerts. And I am so proud of both of these amazing women and I am happy that the Murphy Method played a part in bringing them to bluegrass!
PS: Gina has organized a super all-female bluegrass show, A Tribute To Lynn Morris, which will be held Friday, February 19, at the Bright Box in Winchester, Va., 8-10 pm. I will be playing and emceeing, along with Casey Henry, Kasey Smelser (making a guest appearance with us), Linda Lay, Malia Furtado, the Gold Heart Sisters, and others. Here is the link: http://www.brightboxwinchester.com/event/womeninbluegrass/. Gina, unfortunately, won't be there because that very night she'll be playing her first gig with Chris Jones at the Station Inn. Don't tell me God doesn't have a sense of humor!
---
5 comments on "Gina Furtado Clowes Joins Chris Jones and the Night Drivers! By Murphy Henry"

Lew H Says:
Tuesday, February 9, 2016 @12:15:02 PM
Wonderful post! Thanks. We get to see the Nightdrivers here in southern Illinois occasionally because Mark Stoffel, mando picker, lives in the area. But Nedski has been my favorite of the band, and I hated to see him drop out. I liked both his great picking and his oddball humor. I didn't know of Gina before now. However, from your post here, it seems that both the quality of the picking and the humor will still be present in the Nightdrivers. Unfortunately, I have to miss her first local gig with them. :<(

macwain Says:
Tuesday, February 9, 2016 @3:32:14 PM
What about Allison Brown when she played with Allison Krause?

wshunter Says:
Thursday, February 11, 2016 @5:23:09 AM
I'm sorry Lew will miss the gig in Cobden. I will miss seeing Lew there, but Martha and I already have our tickets. We will miss Ned, but are very excited to see/here Gina. Thanks for a great article Murph! Bill Hunter

Lew H Says:
Sunday, February 21, 2016 @9:02:22 AM
OK, I did make it to the Night Drivers concert with Gina Clowes. She is a FINE banjo picker, and better looking than Ned, but not so funny. I got o chat with her a bit, and I think she's a very nice and gracious person.
stanleytone Says:
Monday, March 7, 2016 @3:54:02 PM
I've been playing bluegrass a long time ,and have played with many awesome female pickers many times, but I have never been in a band with one. The opportunity for that has never arisen, although I did help out a band that had a female lead singer in it for a few gigs. I could see a few reasons why some guys might not want a girl in a band with them. First of all, guys will be guys, and many they may not like feeling like they have to "behave" because a girl is in the band. Then there is the wife factor. No need to explain that one. Anyway,

You must sign into your myHangout account before you can post comments.