I have started my own blog site, called The Banjo Snob (www.banjosnob.com). The name is a reflection of how seriously I take the four-string banjo. I have watched--over the last 40 years--my beloved instrument and it's players dwindle and slowly die off, and I am concerned for it's future survival. I have tried to set a serious, "call-to-action" tone in my blogs, and have mostly only managed to piss people off! That is not my intent, but I don't see the banjo through rose-colored glasses, and I am not happy with the status quo; it is a real musical instrument with real problems that need real attention and real solutions. I realize that if pissing people off leads them to take it more seriously, then maybe my writing hasn't been in vain!
In my previous writing for BMG magazine, I got onto a theme of "bashing" Eddie Peabody; I lost a few friends that way, and the magazine actually lost a few subscribers. Words can be very powerful, and that's a power that I am not personally comfortable with. If folks would actually read my writing, they would discover the message within it, and that is that we shouldn't put all our banjo eggs into one persons basket. The banjo--in all it's forms--is a wonderful musical instrument that is capable of so much more than just one limiting style. If I were a five-string player, I would probably go on the same rant regarding Earl Scruggs. Don't limit yourself! Listen to and try everything! Harry Reser is my biggest banjo hero, but I would rather be a "banjo musician" than a Harry Reser imitator!
Anyway, check it out; I see no point in writing blogs on the Hangout when I have my own site.
---
4 comments on "The Banjo Snob"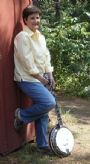 Banjosnob Says:
Thursday, January 21, 2016 @10:22:07 AM
I am a serious student of the banjo...and therefore a banjosnob :)


banjoplayer1 Says:
Thursday, January 21, 2016 @5:21:24 PM
I hope you don't mind me using your BHO name for my website! My webmaster and I did an internet search for other websites with that name, and didn't find anything; I never thought to check on the BHO! Glad there's more than one banjo snob out there!

chas5131 Says:
Saturday, October 9, 2021 @6:07:48 PM
Enjoying your blog.
Ordered a tenor.

banjoplayer1 Says:
Friday, October 15, 2021 @11:25:55 AM
chas5131; Glad to hear that! If you need any help with it, don't hesitate to contact me.
You must sign into your myHangout account before you can post comments.