Not Able To Be Pickin' Or Playin' Anymore :(
Well, it was a great ride picking with all the Guys, Gals and all the bands I've been involved with for the last 45 years or so such as Natural Grass, The Northern Grass, Southern Grass, Joe Page And The Trad Mountain Boys, Stinkeye and most recently, Those Guys.
Also a few I can't remember that were thrown together at many a festival and Jam session I've had the opportunity to pick at over the years. but, I knew one day it would all come to a halt for one reason or another much to soon for me though.
Arthritis in every joint, Back Problems, Heart Condition, Plantar Fasciitis in both feet, Loud Ringing in my ears. I say ears but only one has worked since I was 16, also the various and many medications I have to take on a daily basis are all taking their toll and so I've had to cease my musical endeavors .
So, it is with a heavy heart that I hang up my Banjos, Mandolins, Autoharps, Ukuleles, Piano/Keyboards, Bagpipes, Dobros, Fiddles, Basses, Acoustic, Electric and Upright, Guitars, Electric and Acoustic, Cello, Guitaros, Balalaika and Harmonicas and not play them as a professional musician and prolly not even as a closet picker.
Thank you to all the musicians that have crossed my path and I theirs for the great and wonderful times playing music of one genre or another mostly Bluegrass my first and only love.
T.T.F.N
( I )====='----<: :}
---
6 comments on "Not Pickin' Or Playin' Anymore :("

Texasbanjo Says:
Tuesday, January 19, 2016 @4:42:52 AM
So sorry to hear about all your health problems. Old age isn't much fun, is it? I had to retire from playing in a band several years ago because arthritis in my hands/fingers messed up my picking. I still occasionally go to jams, but try to stay in the old folks jam because I just can't keep up with the younger players anymore. I still practice almost daily with banjo, mando and guitar. I still play guitar and sing. Hopefully, you can, too, maybe not in a band situation, but just for fun.

eastkypicker Says:
Tuesday, January 19, 2016 @10:28:22 AM
I am sorry to hear that Terry...Keep a good attitude and listen to as much good music as you can!

rinemb Says:
Thursday, January 21, 2016 @6:50:57 AM
Man, I hate to read this. You can still enjoy the music, though. Best wishes, Brad

banjoy Says:
Thursday, January 21, 2016 @2:31:18 PM
I don't know you, but I hear you and feel for you. I know what some lower back pain can do to me, thankfully am able to cope and deal with it so far, but I too know there will come a day...

At least, the very least, you got to experience what you did, and can tell about it still. It sounds to me it's been a good ride overall. Cherish what you can, and I'll do my small part to help in other ways, something I can do from where I sit.

Blessings to you and yours.

Jethro Aberdeen Says:
Saturday, January 23, 2016 @2:41:08 PM
My heart goes out to you. You will hopefully have some good days where you feel like picking up an instrument to sooth your soul and find some enjoyment.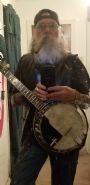 5stringpicker2 Says:
Friday, March 25, 2016 @3:00:03 PM
Thanx for all the replies, comments and responses. Your thoughts and sentiments are appreciated and welcomed.

I am limited in my playing but not in my enjoyment of listing and watching others play. The wife and I will be purchasing a motorhome soon and will get back to traveling and enjoying many a Bluegrass Festival as we did in our 20's and 30's.

I hope to see many of you in our travels in the future and possibly visit you if we are ever in your home town. Until then, Happy Trails, Good Bye, TA TA, Auf Wiedersehen, So Long, Farewell, Au Revoir and may the Gods of Bluegrass keep you safe and well.

Terry
( I )====='----<: :}
You must sign into your myHangout account before you can post comments.